About Upstox
Upstox is one of the best discount brokers in India that has significantly invested in technology. Upstox provides excellent trading platforms and tools to its customers.
Upstox is trying to make trading and investing convenient, safe, fast, and extremely cheap
Various Upstox applications include Upstox Pro Web, Upstox MF, & Upstox Pro Mobile.

Upstox also offers partner platforms like Upstox Nest Desktop, Upstox Dartstock, and Upstox Fox Trader. After the Upstox Account Opening process is complete, one gets access to the Upstox Pro Trading Platform for free.
Check our detailed Upstox Review here.
What is Upstox Pro Trading Platform?
Upstox Pro is a Trading Platform of the Upstox Demat Account. Users can easily access Ustox Pro login using the web or mobile-based application for Upstox Pro.
Additionally, Upstox offers the following trading platforms to its customers, which are
Upstox Pro Web
Upstox Pro Mobile
Upstox Mutual Fund

Upstox Pro Web 3.0
Upstox Pro Web 3.0 is a web-based Upstox trading and investment platform that helps you to buy and sell shares in the stock market. You can use the Upstox Pro Web 3.0 to execute the trade using browsers on laptops or Desktops. You can also know how to do a Upstox Web login.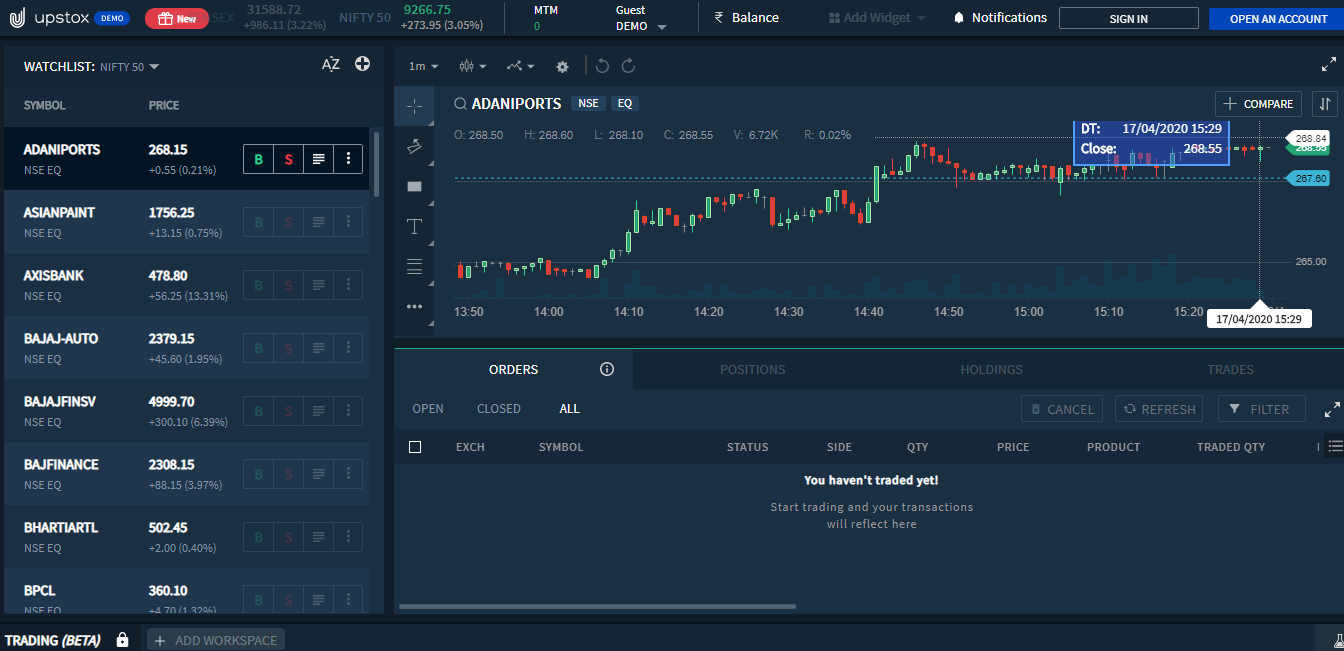 Features of Upstox Pro Web
Pro Upstox Web is powerful & easy to use the trading platform in India.
Upstox Pro Web comes with excellent features like API integration, algo trading, charts, and technical indicators.
It utilizes socket technology that enables access to real-time market data at a quick speed.
Pro Upstox Web is free for Upstox clients.
Upstox Pro Web has comprehensive charting tools to spot market trends and make informed decisions
Upstox Pro Web allows you to customize your charts with 100+ indicators and become a truly pro trader.
Related Post: Also Read How to Buy & Sell shares in Upstox.
Upstox Pro Mobile
Upstox Pro Mobile is a mobile trading app built for traders. It has every critical functionality and tool a trader is needed.
Upstox Pro mobile is a user-friendly trading application available for download on both Android and iOS stores.
You can also click here to know how to do Upstox pro login.
Features of Upstox Pro Mobile
Upstox Pro mobile application provides stability, Multi-monitor support, and Advanced Charting.
Using Upstox Pro mobile, you can track your favourite scripts, indices, and monitor the market using charting tools with 100+ technical indicators.
Using Upstox Pro Mobile, you can easily place buy and sell orders on the go.
Upstox Pro mobile provides you with a universal search tool to find desired stocks and contracts.
Using Upstox Pro Mobile, you can access to multiple segments including NSE cash, Futures and Options, and Currencies scripts.
Upstox Pro App provides you with a facility to directly order from the charts.
Using Upstox Pro App, you can create customized watchlists & Get price alerts on set scripts.
Upstox Mutual Fund App
Upstox mutual fund platform offers free service for clients to invest in mutual fund schemes through SIP or LUMPSUM. There are three types of mutual funds provided by the Upstox like
Low-risk investment – Those investments will make the investors get less risk on investments. It's the ratio of the loss or profit.
Tax saving – The equity investment and equity-related mutual funds are called tax saving mutual funds. Upstox provides mutual funds for investment platforms.
High return – Those investments in which you have a chance of a big return or a large percentage of capital with the performance.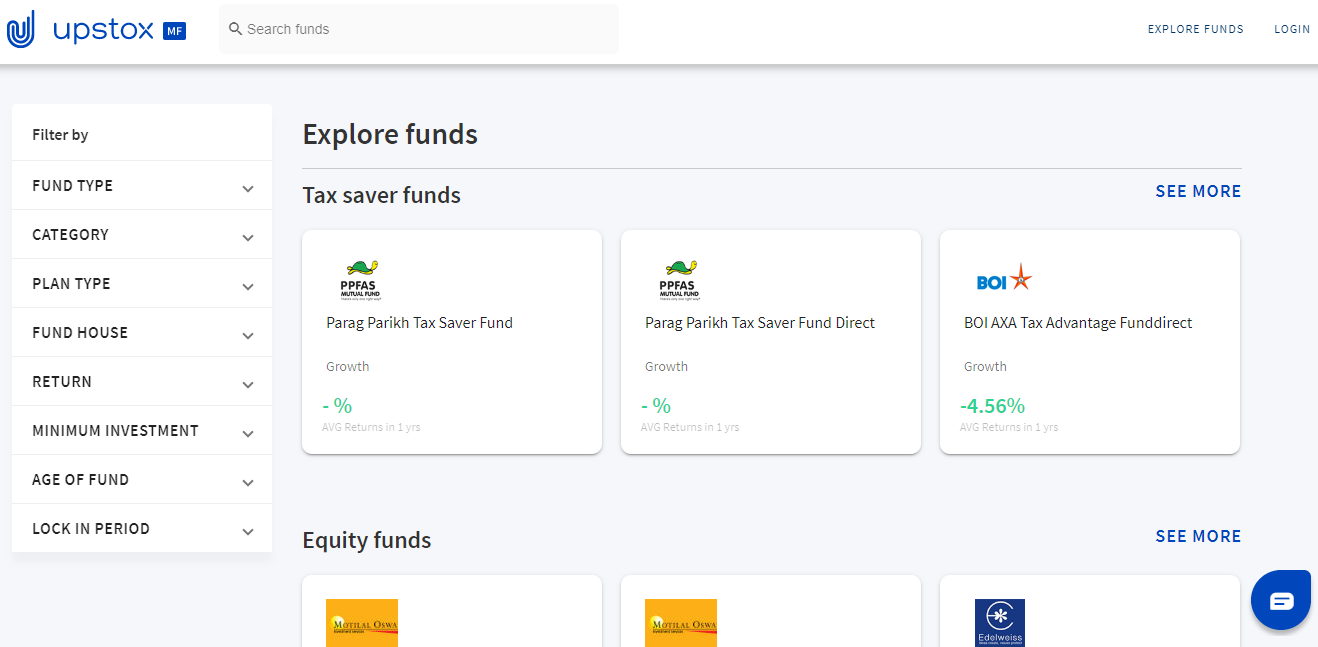 Features of Upstox Mutual Fund Application
Upstox offers an online facility for investing in a mutual fund.
Paperless transactions for investment in mutual funds can be done from the same trading platform.
Access to this platform is free if you open Upstox Demat Account.
Other Products offered by Upstox
Upstox partnered with a few applications to provide their clients, such as Dartstock, Fox trader, and Nest trader. Here are the other trading platforms offered by upstox for their clients.
Upstox Nest
Upstox Nest Trader is a desktop platform that is built on a robust platform to serve your advanced trading needs. Upstox Nest trader is an advanced trading desktop software that helps you monitor markets, place orders, and buy & sell shares in real-time.
You can install the application on a desktop or a laptop.
Some of the key points of Upstox Nest Trader are
Advanced visualization
Latest order types
User-friendly
Monitoring support
Personalization
Stability and latency
Features of Upstox Nest
The Upstox Nest is designed to keep speed and low latency needs.
Nest streams data with the fastest possible refresh rates and remains stable.
Upstox Nest Interface is highly customizable as per user needs. Various options to edit Layouts, Fonts, Colors.
Upstox Nest has multi-monitor support with customizable hotkeys and shortcuts so that you can trade smarter and faster.
It is easy to understand the trends and provides the best-customized charts.
Upstox Dartstock
Upstox has partnered with iDarts to provide you with the Upstox Dartstock software to help you in your daily trading routine. Upstox Dartstock is designed to develop the trading experience of upstox users.
Some of the key points of Upstox Dartstock are
Intraday information provider
High volume tracker
Watch list checker
Spreads of future
Trend finder & Live scanner
Upstox Dartstock Features
Upstox Dartstox provides 60+ technical indicators and 10+ market studies to help your trades.
It Analyses the market directly from advanced scanners that account for various calculations.
Using Upstox Dartstock, You can access visualization tools like advanced Upstox charts, dashboards, and graphs to pick trades faster.
Scans market to find scripts that fit the criteria of three that include PE Ratio, Market Cap, Traded Volume, Turnover, 1-year return, etc.
Scans markets for trades with filters depending on Quantity, Traded Value, Index, Sector, or personalized watchlist group.
Access to this platform is free after Upstox Account Opening.
Upstox Fox Trader
Upstox Fox Trader provides complete market analysis and also charting and backtesting.
Upstox has partnered with Reliable Software India Pvt. Ltd. to bring the FoxTrader trading software with Upstox to the customers
Some of the key points of Upstox Fox traders are
Risk identifier
Fast analyzer
Backtesting
Live Scan
Automatic strategies provider
Features of Upstox Fox Trader
It helps you to analyze markets with multiple charting tools, backtest strategies, and experience effortless with one-touch trading technology.
You can run strategies on charts, scanners, and generate planned and fast orders with the help of API.
You can determine the order quantities, monitor current positions, P/L by using this platform.
FAQs
Is Upstox safe for long term investment?
Which international exchanges can I invest in?
You can invest across exchanges like New York Stock Exchange, Nasdaq, Japan Exchange Group, Hong Kong Stock Exchange among others.
Is there any minimum investment or balance required?
No. There is no minimum investment amount. You just need to ensure that your account is well-funded to buy your desired share so that you don't lose out on an amazing investment opportunity.