Upstox has recently launched new version of its web application upstox Pro 3 . This new update comes after a long time and has got some major updates. In this article , we will see the major changes to the Upstox Pro App and how good the new pro web app is.
If you dont have upstox account , you can click this link to open upstox demat account
Major changes to the new Upstox pro 3 app
Trading View Charts along with traditional ChartIq platform
New Option chain with overall oen interest and days open interest.
Strategy trades from Option Chain of Fno Stocks
New look to Watchlist of stocks
New overall design of positions , holdings and orderbook page.
Very fast user experience.
New Login Page
The new login page is very fast and responsive with cleaner look and less load time.You have to login with your user ID and upstox password. Once you login you are greeted with the new redesigned home screen
Upstox Pro 3 Home Screen
Once you have logged in successfully , you are greeted with new new homescreen. One the left side of the home screen , you can use dropdown to access watchlist of stocks. ALso you can create new watchlist of stocks. Example in the image below, we have added a watchlist called indices and you can add Nifty metal , Nifty Auto and other indices in this watchlist. To add a symbol in the watchlist , click on + button.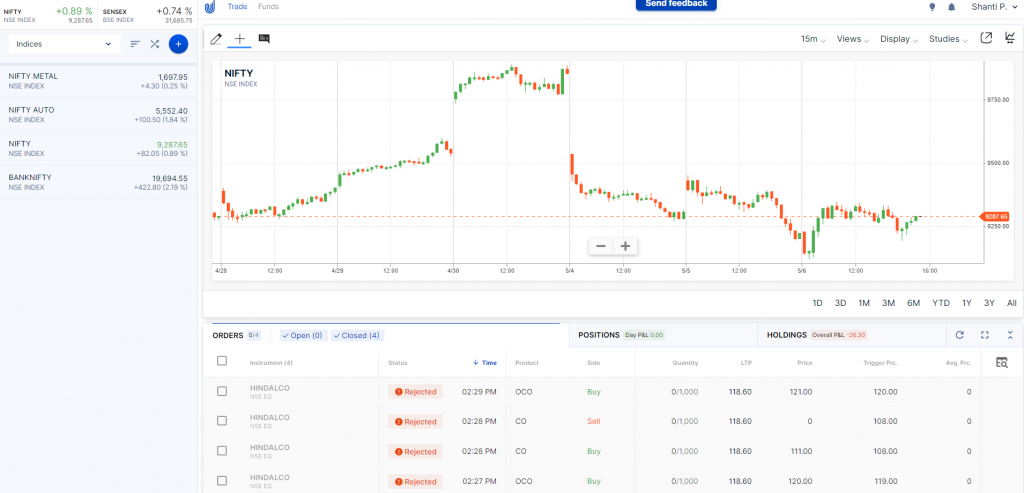 Additionally you can hover over any stock and see buy and sell button. On clicking on buy or sell button , you will be able to see a new order placement window where you can buy or sell stocks by entering quantity and price details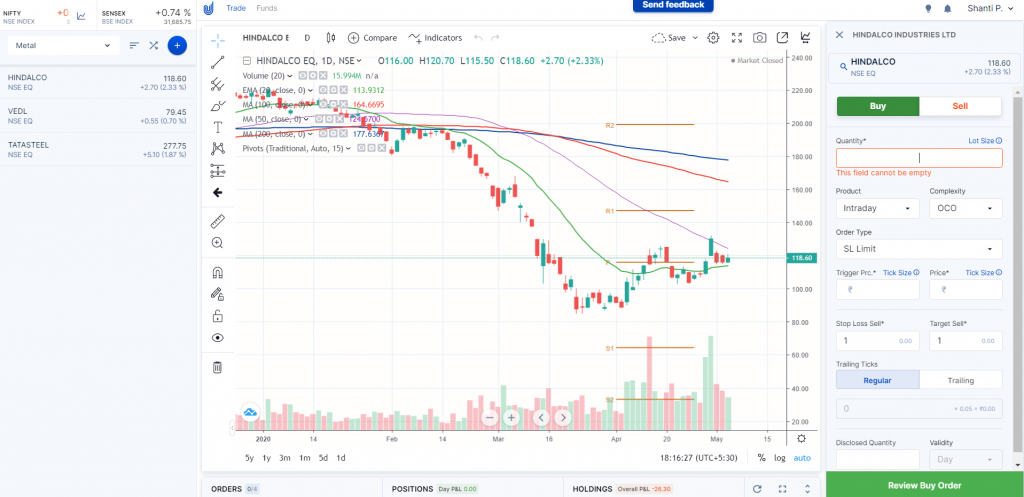 New Option Chain view
Once you hover over and stock which is in FNO , there will be three dots and when you click on it , you will get "open option chain" link. Once you click option chain , you will get this new screen with option chain view
You can easily see out of the money calls nad puts with new distinguishing colors and also see spot price on option chain. There us also bar graphs in OI and change column where you can see total open interest and days open interest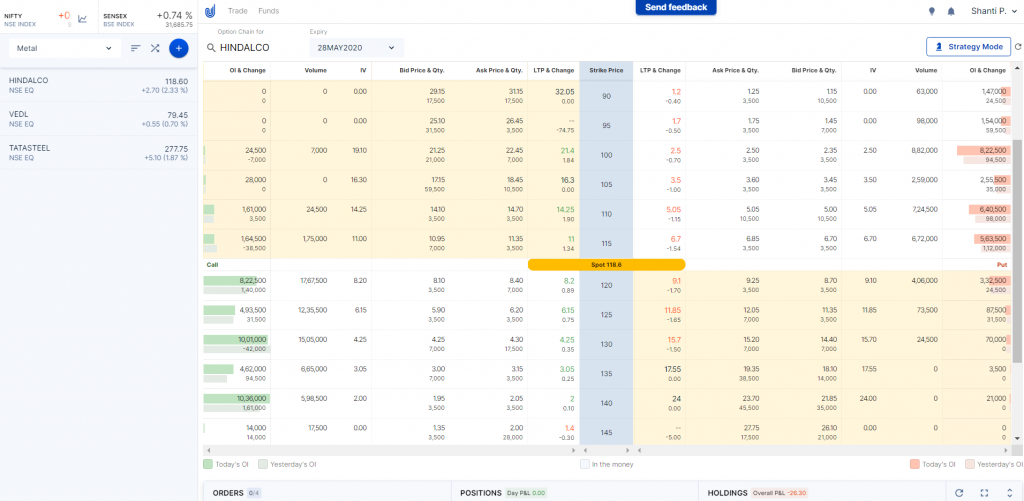 Options Strategy Mode
A new options strategy mode is there which helps you to trade option strategies like bull call spread and bear call spread etc. in new upstox pro app directly. You can add legs from chart and then trade with it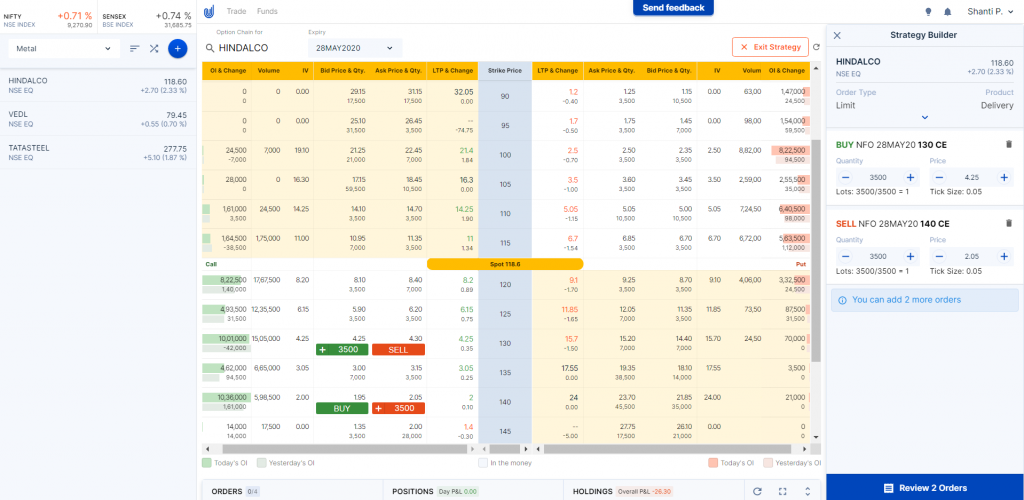 Trading view Charts
This is the much awaited feature demanded by many people. The new trading view charts are slick and very fast compared to older chartiq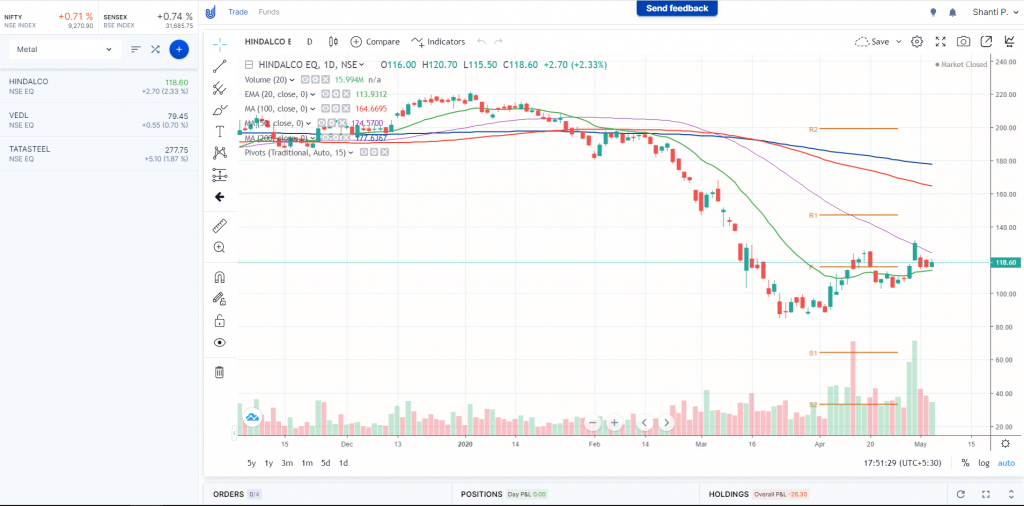 Sort options in Watchlist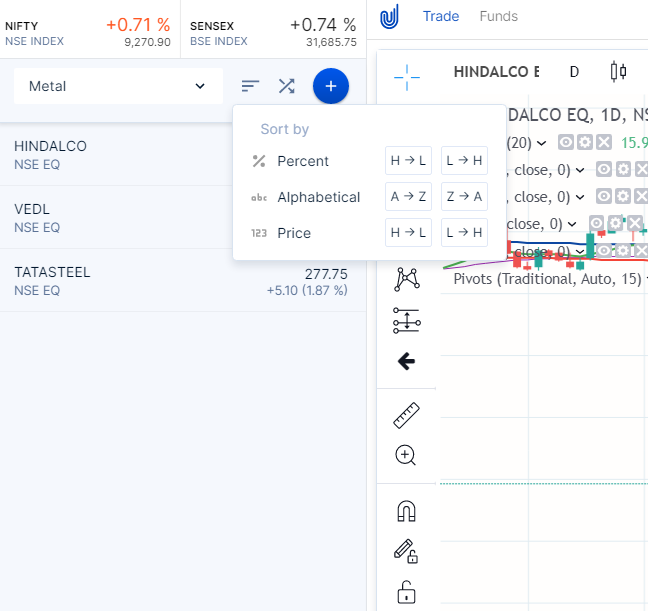 Summary
Overall , the new app looks slick and is much faster to use now than before.
You can use this application buy opening and Upstox demat account
You can use real time Intraday Screener to select stocks for intraday Trading real fast
Broker




Rating




Link to Open



 

Zerodha


No.1 Stock Broker in India







★★★★★









Upstox




★★★★









Angel Broking




★★★★









5 Paisa




★★★★









StoxKart




★★★★