Upstox , India's second largest discount broker brings you never before Offer on Demat and Trading Account. Get benefits worth upto 4000rs on opening upstox demat account free
How to Open Upstox demat account
Lets understand simple steps to open upstox demat account
Step 1 : Click the link here and enter details like Name ,Email and Phone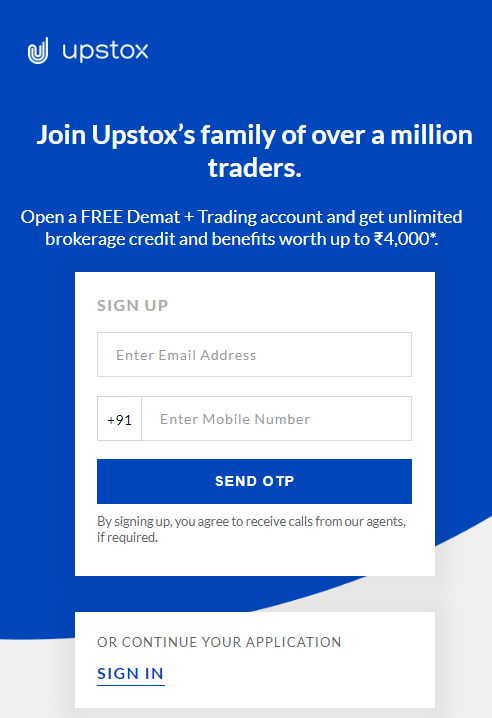 Still Confused about which demat account to open , click below to send us whatsapp message and we will help you
Learn stock markets – call 9838479931 now!
Documents needed for free demat account
If your phone number is linked to your Aadhaar Card then you can open a demat account online–completely paperless.
Proof Of Identity
PAN Card
UID (Aadhaar)
Driving Licence
Passport
Voter Identity Card
NREGA Job Card
Any document notified by the central government
Proof of address
Lastly, you'll need to submit a proof of address in India. There can be some overlap of address proof and ID proof documents. The full list includes:
Passport
UID (Aadhaar)
Voter Identity Card
State issues Driving License
NREGA Job Card
Utility bill which is not more than two months old of any service provider (electricity, telephone, post-paid
mobile phone, piped gas, water bill).
Bank account or Post Office savings bank account statement.
Documents issued by Government departments of foreign jurisdictions and letter issued by Foreign Embassy or Mission in India.
Proof of bank
You'll have to show proof of the bank account that you wish to connect with your account. If you have a canceled cheque that has your name on it then you can send it to your broker along with the account opening forms. Or, if you're opting for the online account opening process you can upload the canceled cheque with the bank's IFSC code to the online portal.
In a bank proof a broker needs the following from you:
Your name
Bank's IFSC Code
MICR
Some brokers allow you to submit your bank statement which has your name, MICR and bank's IFSC code or the front page of your passbook as long as it has all the above details clearly visible.
Fields that are to be filled in the demat account form:
Type of account (Ordinary, NRI, NRI-Non-Repatriable or HUF)
Account holder information (name, address, telephone no., email id etc.)
Second holder details
Guardian details
Extra information for NRIs (foreign address, RBI reference no. and RBI reference date)
Bank details (Account no. , account holder's name etc.)
Financial details (PAN number)
Photograph
Declaration (Holder's name and signature)