Kotak Securities Limited was founded in 1994 & currently considered as one of the largest stockbroking house in India, headquartered in Mumbai. Kotak Securities is a full-service broker with a massive customer base ranging from 1-1.2 million. They are a stockbroking arm of Kotak Mahindra Group having 1200+ branches & franchisees across 359 cities in India. Kotak Securities review is a highly recognized member of the Bombay Stock Exchange & National Stock Exchange delivering 5 lakh trades on a daily basis. They are also a depository participant with National Securities Depository Limited (NDSL) and Central Depository Services Limited (CDSL).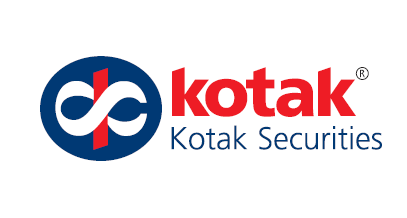 Kotak Securities have been rewarded with many Awards in the near past, they have been voted as the "Broker of the Year" by The Asian Banker's Financial Markets Business Achievement Awards 2014. In 2013, Awarded as Best Equity Broking House by D&B Equity Broking Awards. They have always been considered as a highly influential stock broking house within the Broking Sector.
ACCOUNT OPENING CHARGES:
| | |
| --- | --- |
| Demat services | Charges |
| Trading Account Opening Charges | Rs 750 |
| Trading Account Annual Maintenance Charges | NIL |
| Demat Account Opening Charges | NIL |
| Demat Account Annual Maintenance Charges | ₹50 per month for Indian Residents, ₹75 per month for Non-Resident Indians (NRIs) |
BROKERAGE CHARGES:
| | |
| --- | --- |
| Brokerage | Charges |
| Delivery | 0.49% |
| Square off (Both Sides) | 0.05% |
| Futures (Both Sides) | 0.05% |
| Options | Rs 300 Per Lot |
| Minimum Brokerage | 4 paise for delivery and3 paise for Intraday and Futures orders |
TRADING PLATFORMS:
Trading Platforms
Features Of Kotak Securities Review
KOTAK SECURITIES XTRA LITE
1. Works with complete responsiveness across devices be it mobile, desktop, laptop or tab.
2. Order monitoring and placing order features.
3. Get market research reports to make sound trading and investment decisions.
KEAT PRO X
1. Best of the research reports and market tips within the software that help you in taking the right decision at the right time.
2. Get access to market information with real-time stock movements, top gainers and losers, updates on various indices, etc.
3. Personalized watchlist feature that allows you to add up to100 scripts within a watch-list. Users can combine scripts across BSE, NSE and currency segments.
KOTAK SECURITIES FASTLANE
1. Access to company reports and market research.
2. A list of S&P CNX NIFTY scrips stream LIVE on it by default.
KOTAK SECURITIES STOCK TRADER
1. Customized Watch-list creation.
2. Funds transfer.
3. Connected with LIVE TV (facilitated by Bloomberg TV).
4. Multi-level security.
5. Get live market updates through integration with Times of India, Economic times or Money Control.
6. Trade rectification and cancellation allowed through the mobile app itself.
7. Intraday charting functionality available.
PRO'S & CON'S:
Advantages
Disadvantages
Wide Offline Presence
High Brokerage
High-Performance Trading Platforms
Average Customer Service
3 in 1 Demat Account