A stock market trader needs to stay updated with every minute of the market trend. The stock market traders keep multiple tabs for the rising and fall of the stocks on a daily or hourly basis.
The high-speed internet and mobile applications have made the life of traders simple, faster, and efficient. These applications help the traders to stay alert and ready all the time. Here are the Best Stock Market Applications that will help you to make your stock research more comfortable and faster.

MoneyControl App
Moneycontrol is the most trusted and user-friendly mobile app for stock market-related news and updates. This mobile application is highly recommendable if you are looking forward to keeping only one form on the stock market. The money control app is simple but provides a lot of information and news.
By using this application, You can track the latest updates on Indian share markets on your smartphone. You can track Indices, Stocks, Futures, Options, Mutual Funds, Commodities, and Currencies of multiple assets from BSE, NSE, MCX, and NCDEX exchanges.
Features of MoneyControl App
Moneycontrol provides you with easy access to all financial related data, portfolio, watch-list. You can search them by using a single search bar with a voice search for stocks, indices, mutual funds, commodities, news, etc.
You can know the latest quotes of all the segments like stocks, F&O, mutual funds, commodities, and currencies from BSE, NSE, MCX, and NCDEX.
You can cover the news related to market, business, and economy, interviews of senior management.
You can monitor your portfolio across the Stocks, Mutual Funds, ULIPs, and Bullion. You get updates & notifications on the performance of your portfolio, and news & alerts relating to stocks you hold.
This application provides you a benefit to adding your favorite stocks, mutual funds, commodities, futures, and currencies to monitor them in your watch-list.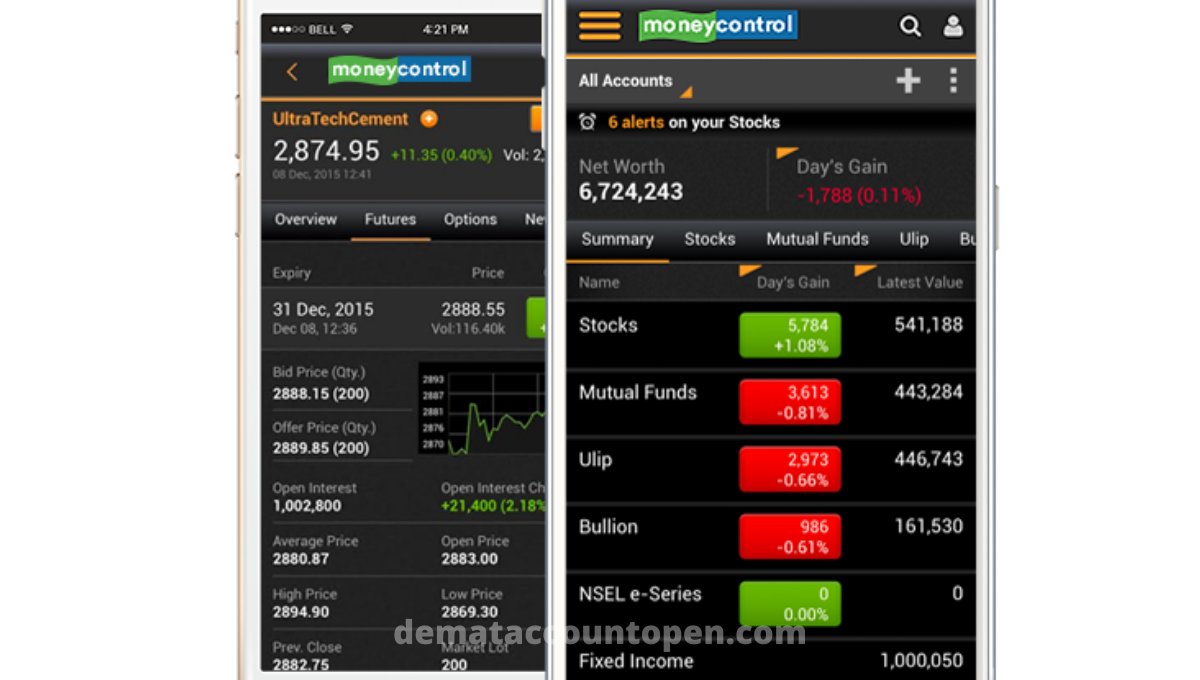 Link to download : Download here
Investing.com App
This Investing.com mobile app has grabbed millions of users. This is one of the most sought after Share market apps in India.
Features of Investing.com App
The investing.com application has been laid out very efficiently and allows the user to achieve maximum performance.
This mobile application gives you real-time data and a financial calendar to track all economic events throughout the year.
By using this application, you can track the global indices, stocks, bonds, commodities, currencies, and interest rates from all around the world.
This application also has a push notification setting, which helps to alert the customer regarding a business deal analysis, news report analysis, financial instrument, or any economic event.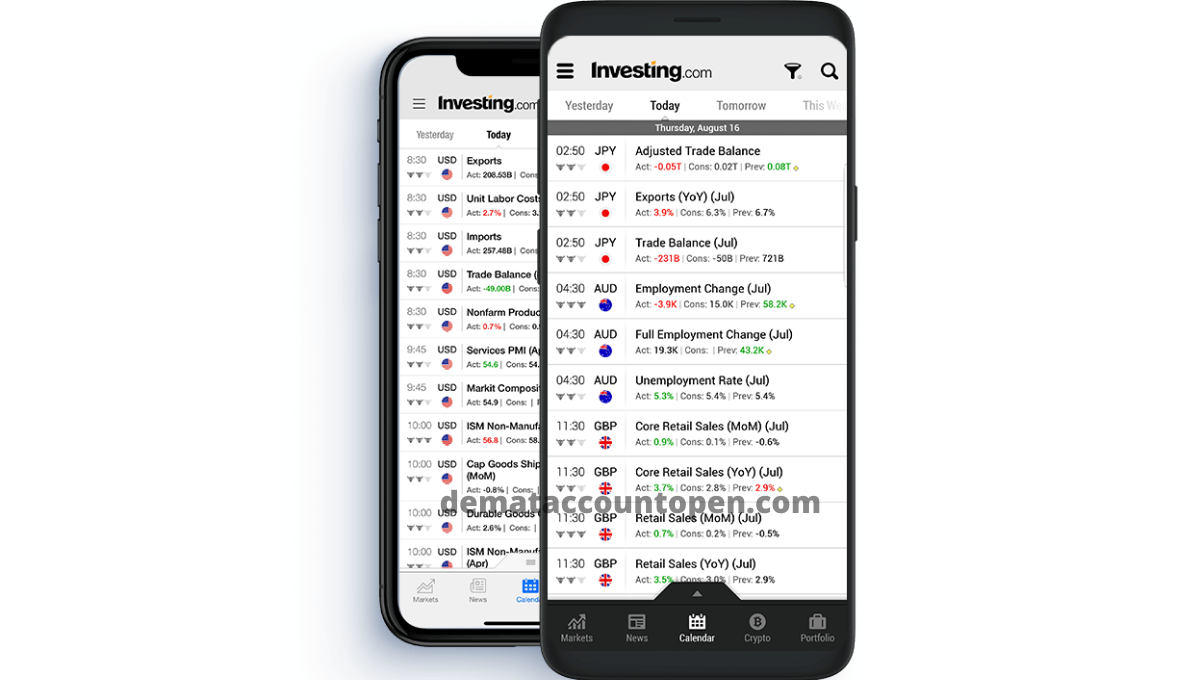 Link to download : Download Here
Economic Times App
Economic Times Application is one of the best stock market applications available for free in India. It is a branch of the Times Internet Limited.
This application has been designed with the only goal of keeping their customers updated related to the stock market.
Features of Economic Times App
You can track BSE Sensex, NSE Nifty charts live, and get stock prices with advanced technical charting.
This application allows you to follow stock market quotes in real-time, and provide tips on intraday trading, stock futures, commodities, forex market, ETFs on the go.
By using this application, you can check mutual fund news, Net Asset Values, portfolio updates, fund analysis, & SIP calculator.
You can simply swipe to build, manage, and access your portfolio and get customized news, analysis, and data of the Indian share market.
You can create your watch-list and track them regularly.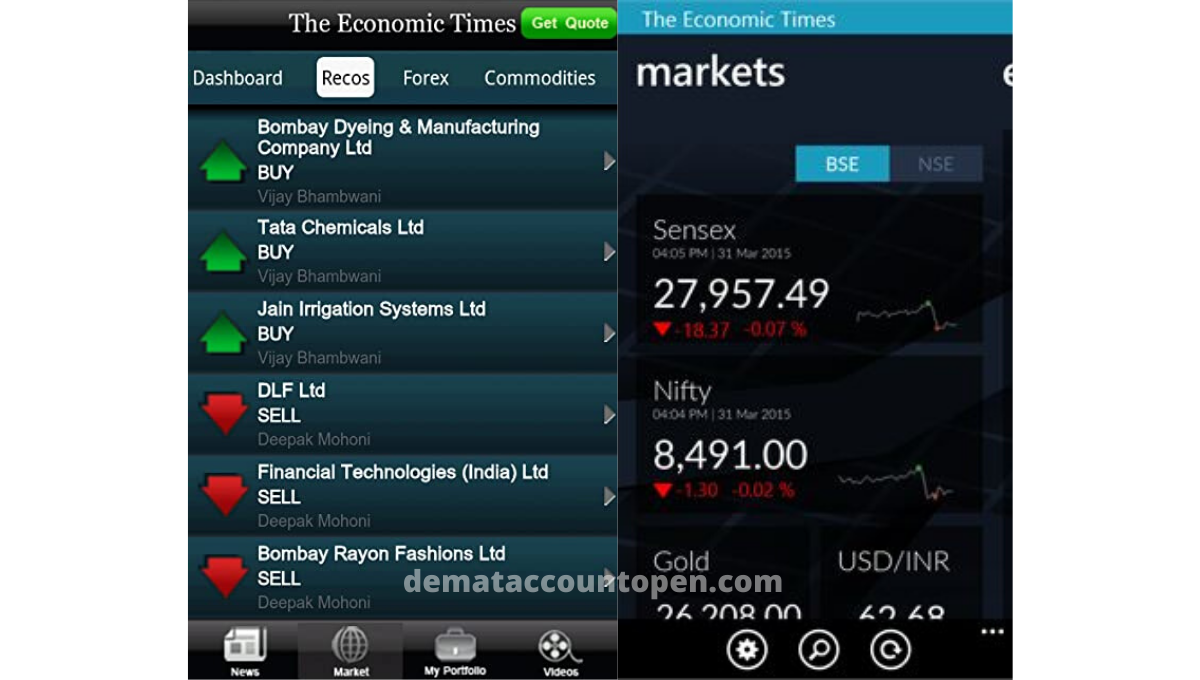 Link to download : Download Here
Yahoo Finance App
Yahoo Finance Application is simple but yet the dynamic user-interface makes it one of the best stock market apps for stock research available in India. You need to select 'India (English)' in the region settings to get the updates about the Indian stock market.
Features of Yahoo Finance App
You can get news and alerts of the stocks you follow.
You can access the real-time stock investment and stay up to date.
By using yahoo finance application, you can add stocks to the watchlists and get real-time stock quotes and personalized news.
This application allows you to track the performance of your personal portfolio and also allows you to check the stocks and track currencies, bonds, commodities, equities, world indices, futures, and more.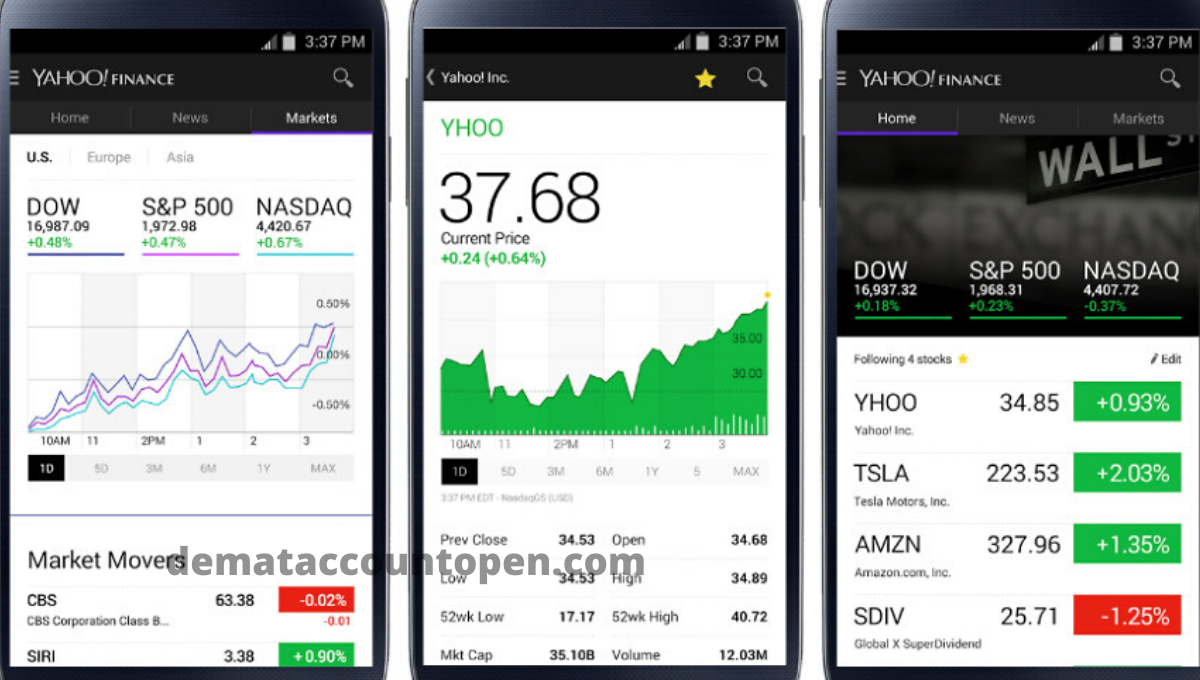 Link to download : Download Here
Stock Edge App
Stock Edge application helps Indian Stock market traders and investors do their research and make better decisions by providing them with end-of-the-day analytics and visualizations and alerts.
It has been downloaded by five lakhs plus users and is focused on research and analytics in all of India.
The Stock edge application provides all of its customers to do some research on their own based upon their personal preferences and wishes.
Features Stock Edge App
By using the Stock Edge application, you can check the daily updated section like news, NSE & BSE corporate announcements, upcoming events, & corporate actions, and more.
You can check the Price Scans, Last week high/ low, Last Month high/ low, 52 weeks high/low, three days price behavior of a particular stock.
You can use the MyInvestorGroup section to create your group of Investors with their multiple names/entities etc.
You can check the Sector List, Industries in a sector, Companies in a sector/Industry, Price Movement of the last 30 days presented in a simple graph, Gainers, Losers, etc.
The Stock Edge application also provides the clients to learn about some new terms about the stock market.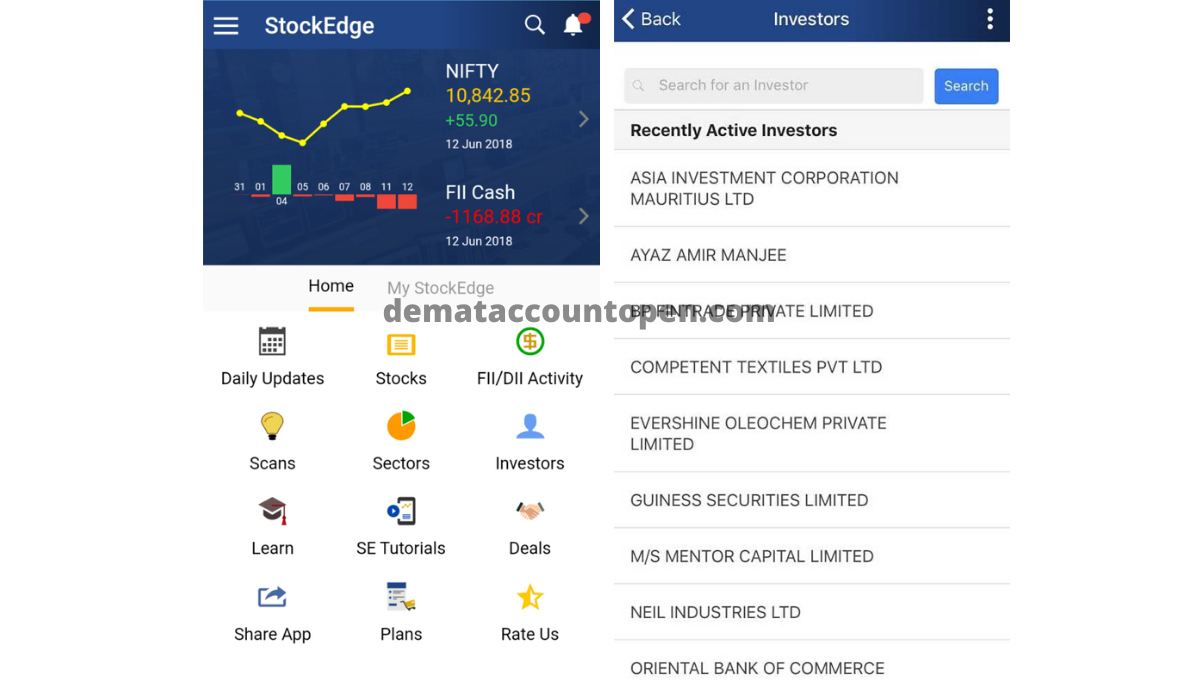 Link to download : Download Here
IIFL Market App
The IIFL Market application has been downloaded by 1 million plus clients and is one of the best functioning stock market apps available for the stock market trading.
It was also awarded as the 'Best Mobile Application' by the Zee Business Awards.
Features of IIFL Market App
The IIFL Market application provides you with all the details for Equity, Index and Currency, and the comprehensive information of Futures.
You get an option to receive an expert opinion on any financial matter. You can swipe and obtain the advice of an IIFL expert in case of any doubt.
This application also provides a 'Price Alert' system for currency, equity, and commodity segments.
You get the option of creating a watch list according to your choice and requirement.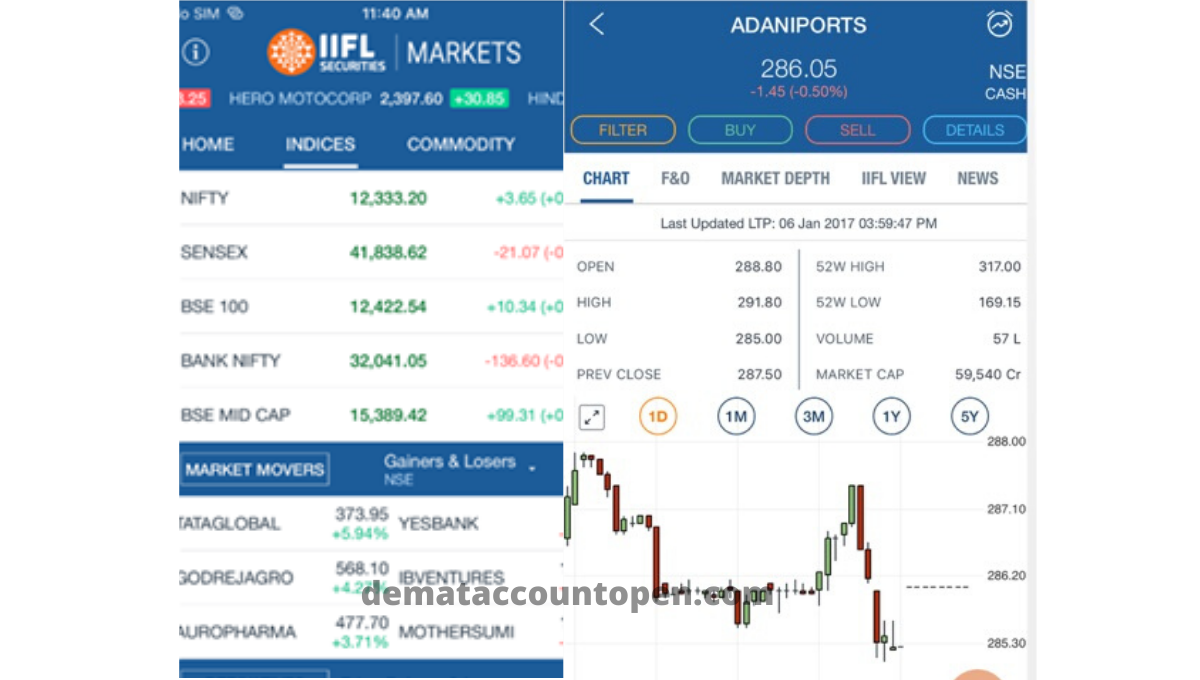 Link to download : Download Here
NSE Mobile Trading App
NSE Mobile Trading Application is one of the best stock market trading applications in India. This app provides you the freedom to trade anywhere and at any time. You get the User ID, and Password by your NSE registered Trading Member after downloading the application.
Features NSE Mobile Trading App
Real-time streaming quotes, with a simple and user-friendly interface for all types of users.
You can use this application anywhere and anytime without any issues.
Comprehensive trading and market monitoring platform.
More than a million downloads with a rating of 4 out of 5.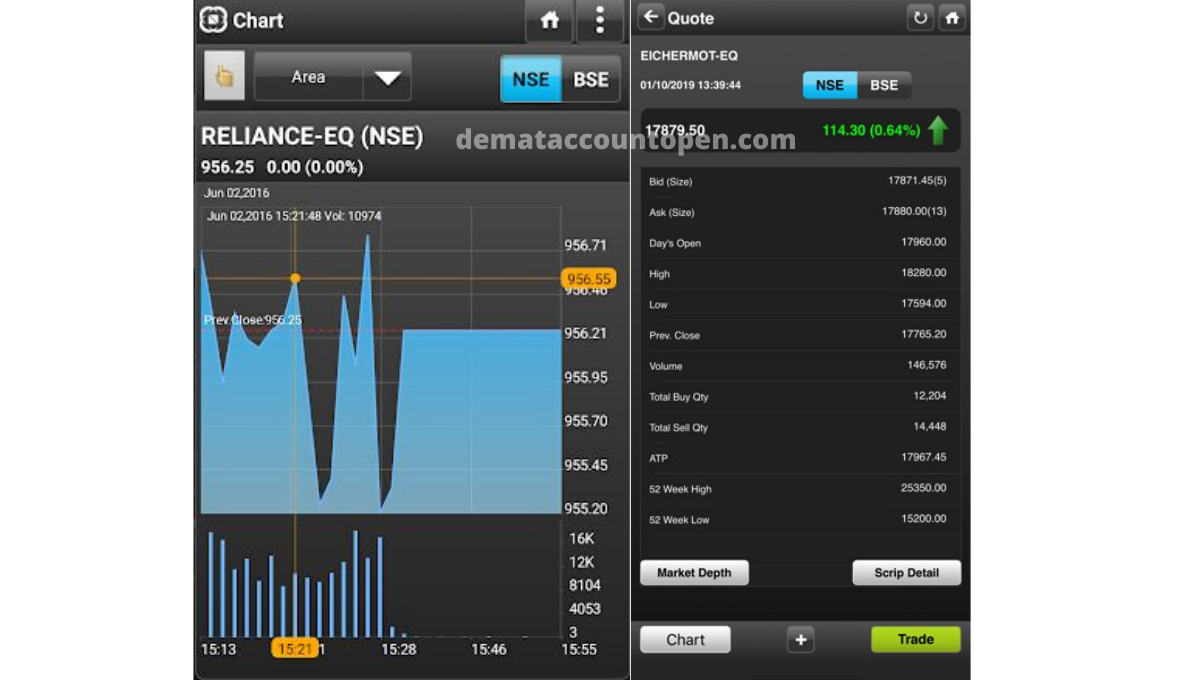 Link to download : Download Here
BSE India App

The BSE India Mobile application has been designed by the Bombay Stock Exchange Limited and has several features in it. The mobile app has been downloaded by 5 lakh plus clients in India and received a rating of 3.5 out of 5.
Features BSE India App
The BSE mobile Application provides you a Google Voice-based search for Stocks within the application along with Streaming Quotes for Sensex Stocks.
You get the option of creating your Watch list and portfolio to track your investments.
It provides you with quick access to Gainers, Losers, Top turnover, 52 Week high/lows along with BSE SME Platform, and Equity Derivatives quotes as well.
The BSE mobile application also gives you live Corporate Announcements, Corporate Actions, Results, and Board Meetings.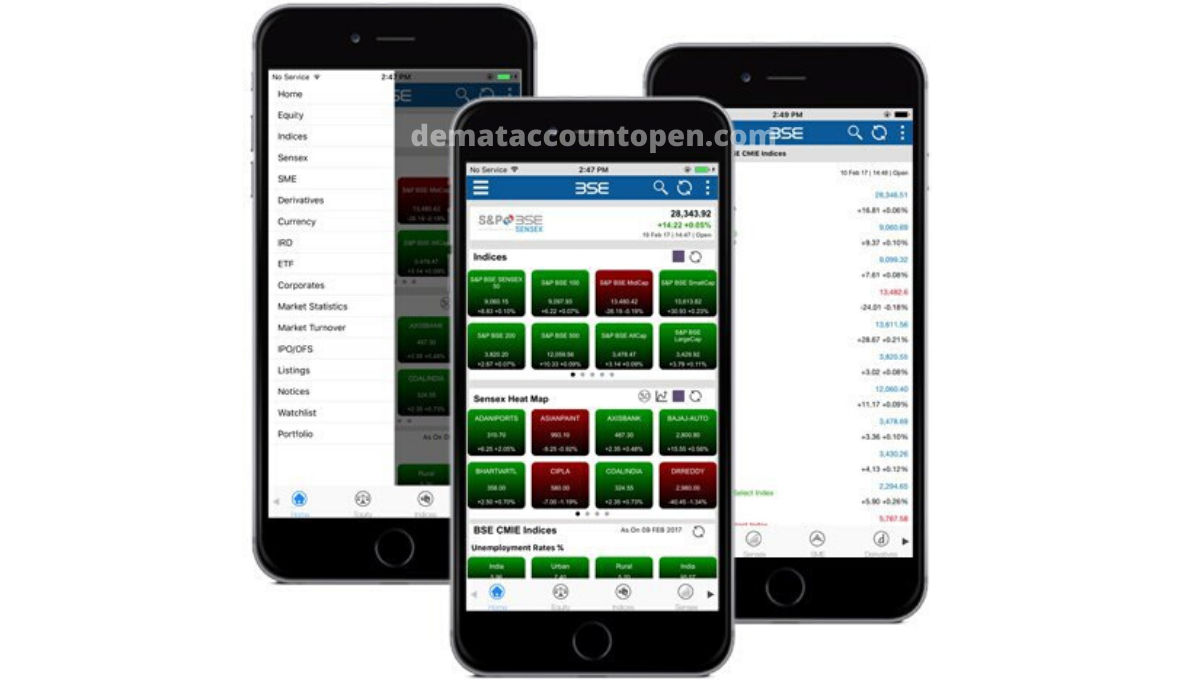 Link to download : Download Here
Open Demat Account
Broker




Rating




Link to Open



 

Zerodha


No.1 Stock Broker in India







★★★★★









Upstox




★★★★









Angel Broking




★★★★









5 Paisa




★★★★









StoxKart




★★★★