Zerodha Account Opening
4.5/5
Deposits and Withdrawl
4.5/5
Pros
Free equity delivery
Free Direct Mutual Funds
Multiple Trading products like Kite, Console
Easy and User Friendly Reports
Algo trading platform Streak
Cons
Slow Settlement time
Average customer care
Power of attorney is Mandatory
Zerodha is one of the best discount brokers in India which offers the lowest, cheapest brokerage rates for Futures and Options, Zerodha commodity trading, Equity, and Mutual Funds.
In this Zerodha review, we have explained –
Zerodha Account Opening Charges
Zerodha Brokerage Charges
Zerodha Trading Platforms.
Zerodha Charges
It charges 20 rupees or 0.01% per trade, whichever is lower and Equity Delivery is free. For any transaction, the maximum brokerage one pays is 20 rupees. You can click here to open a Zerodha Demat account under us.
At present, Zerodha has 20+ lakhs clients. Zerodha offers trading services to buy and sell stocks, futures, and options in equity, currency and commodity segments.
One can easily Open Zerodha Demat account and enjoy low trading annual maintenance charges
Zerodha has its own trading application named "Zerodha KITE" and back-office software named "Q". All trading software applications including trading terminal, website, and mobile trading are available free of charge to its customers.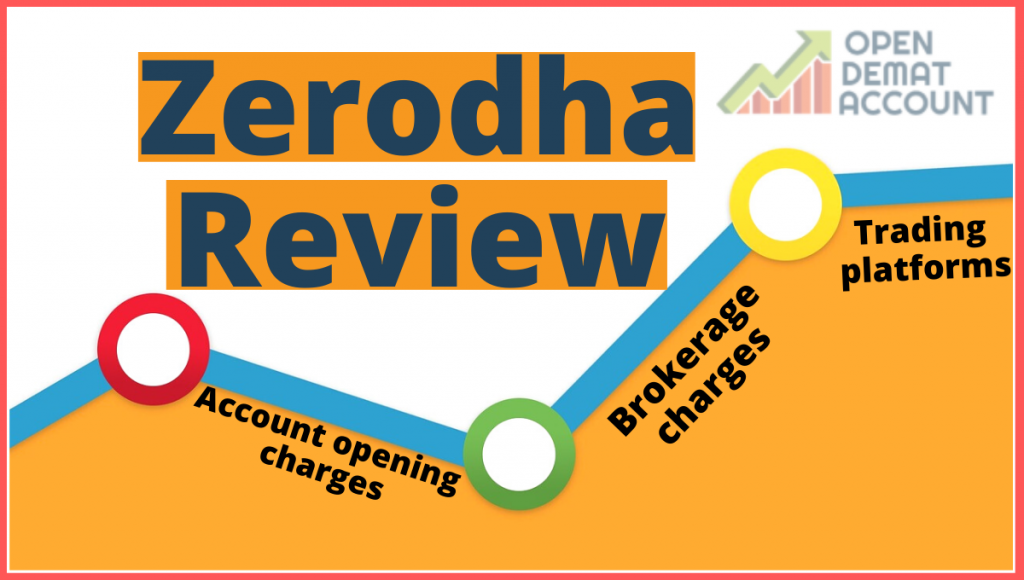 Zerodha has a simple brokerage structure. Besides, Customers who moved to Zerodha to open a Demat account, they gained 80% to 90% of savings in brokerage compared to all other full-service brokers.
It is one of the most advanced and cheapest stock brokers in India for all kinds of investors.
Zerodha has an educational repository like Zerodha varsity, Trading Q&A and open trade. You get exciting vouchers and cashback by claiming the Zerodha coupon code and deals.
Zerodha Demat Account Opening Process
Zerodha Demat account opening process is an online, quick and hassle-free process. If you've all the right documents, you can open your account and start trading within an hour.
Documents required to open a Zerodha Demat Account
PAN CARD
Aadhar Card
Passport size photo
Bank proofs
Canceled cheque
Saving bank account passbook.
We suggest keeping photocopies of all these documents ready before you apply for opening the accounts. You can click here to open the Zerodha Demat Account.
How to Open a Zerodha NRI Account?
Zerodha provides an NRI Account that consists of Zerodha NRI Trading and Demat Account, NRE or NRO Savings Bank Account linked with Axis Bank, Yes Bank, HDFC Bank. Zerodha NRI account allows for trade-in equity delivery and derivatives and also allows you to invest in Zerodha IPO, Mutual Fund, bonds, and securities.
The brokerage charge for the Zerodha NRI account is ₹200 or 0.1% whichever is lower for equity delivery. For equity F&O, it charges Rs 100 per order.
Zerodha Demat Account Opening Charges
The account opening charges to Open Zerodha Demat account are shown in the table below.
| Demat Services | Charges |
| --- | --- |
| Depository Source | CDSL |
| Account Opening Charges | Rs.200 for equities and 100 rupees for commodity |
| Demat AMC Charges | Rs.300 per year |
| Trading AMC Charges | Free |
| Zerodha Margin Money | Zero |
| Offline to Online | No |
Zerodha Brokerage Charges
The brokerage charges in Zerodha account are shown in the table below.
| Brokerage | Charges |
| --- | --- |
| Equity Delivery Trading | Zero |
| Equity Intraday Trading | Rs.20 or 0.01% per trade Whichever is lower |
| Commodity Options Trading | Rs.20 or 0.01% per trade Whichever is lower |
| Equity Futures Trading | Rs.20 or 0.01% per trade Whichever is lower |
| Equity Options Trading | Rs.20 or 0.01% per trade Whichever is lower |
| Currency Futures Trading | Rs.20 or 0.01% per trade Whichever is lower |
| Currency Options Trading | Rs.20 or 0.01% per trade Whichever is lower |
| Minimum Brokerage | Zero |
There are few other charges that Zerodha applies as below –
| Other Charges | Zerodha |
| --- | --- |
| Transaction Charges | 0.00325% of Total Turnover |
| STT | 0.0126% of Total Turnover |
| SEBI Turnover Charges | 0.0002% of Total Turnover |
| Stamp Duty | Depends on State (very minimal) |
| GST | 18% of (Brokerage + Transaction Charges) |
Zerodha Trading Platform
Zerodha provides a user-friendly platform for trading and investing through Desktop web, kite mobile application.
Below is the detailed information on the Zerodha trading platforms which are used by clients after they open a Zerodha trading account.
Trading Platforms
Features
Zerodha kite
1. Works at a bandwidth consumption of fewer than 0.5 Kbps for a full market watch.
2. It provides extensive charting with over 100 indicators and 6 chart types.
3. Advanced order types like Brackets and cover.
4. Millisecond order placements.
Zerodha pi
1. High-speed order execution.
2. Varied features around fundamental and technical analysis including charting with 70+ technical indicators.
Zerodha kite mobile
1. One-tap universal instrument search for all contracts across all exchanges — NSE, BSE, MCX.
2. Live streaming data.
3. Multiple market watch and live market depths.
4. Advanced chart with 100+ indicators.
5. Years worth of free historical chart data.
6. Trade Equities, F&O, Commodities, Currency.
7. Various order types: Regular, AMO, BO (Zerodha Bracket order), CO (Cover orders).
Zerodha not only provides access to its trading platforms and tools but also to the products developed by other organizations using the Zerodha platform. Here is the list of tools offered which are collaborated with the Zerodha kite platform.
Zerodha Coin
Coin is a recent initiative by Zerodha that allows clients to invest in mutual funds directly without any distributor or fund house. This is a first of its kind initiative where clients can place orders to buy mutual funds by clicking a couple of buttons after choosing the mutual fund. It is highly attractive for people who wants to place less risk through their investments and want a reasonable return.
Zerodha Streak
Zerodha streak is one of the latest additions to the discount broker armory of trading applications and tools. Streaks is basically an algo-based trading analysis and signaling tool that directly helps you to use algorithms in your trades. Basically, it takes in some inputs around your trade and provides you with specific information on your profit returns while you back-test your strategy.
Zerodha Sentinel
Zerodha Sentinel is a price alert tool that provides you with notifications even if you are not logged into the system. The tool comes with around 15 pre-defined conditions that a trader like yourself can configure as per your requirements and get notified on specific stocks or indices. Sentinel comes in both free as well as paid versions. The free version allows 30 triggers while the paid version offers 100+ triggers with advanced alerts mechanism.
Zerodha Console
Zerodha console is the back-end platform of Zerodha. It is a trade and reporting dashboard wherein Zerodha customers can view and monitor all their investments, stocks, derivatives, and mutual funds, etc. They can also access various reports, get account statements, place withdrawal requests and download contract notes. The console also offers analytics tools such as trade books and heat-map.
Other Products
Overview
Call & Trade
Customers who are not online; can use Call & Trade service for an additional cost of ₹20 per trader.
Small Case
1. It is an investment platform that allows users to invest in a pre-built portfolio of stocks created around an idea or a strategy.
2. There are various options in a small-case Zerodha for an investor to pick as per his investment plan and invest in a single click like Top 100 stocks, Insurance, etc.,
Sensible
1. It is an options trading platform that recommends trading strategies based on the current market trend.
2. Traders should compare various strategies, evaluate their profitability, risks involved and then execute it from the trading platform.
3. It allows traders to build custom option trading strategies.
Stock report
1. It allows a complete analysis of 3000+ stocks, markets, and industries.
2. This tool provides in-depth data and analysis of Indian companies and ratings for stocks and businesses.
Broker Comparisons
Here we have analyzed the Zerodha Trading Platform with other competitors.
| Broker | Desktop Windows version | Desktop Mac version | Web Trading | Android Mobile Application | iOS Mobile Application |
| --- | --- | --- | --- | --- | --- |
| Zerodha | Yes | No | Yes | Yes | Yes |
| Upstox | Yes | No | Yes | Yes | Yes |
| SAMCO | Yes | No | Yes | Yes | No |
| Sharekhan | Yes | No | Yes | Yes | Yes |
| 5paisa | Yes | No | Yes | Yes | Yes |
Pros & Cons
| Advantages | Disadvantages |
| --- | --- |
| Very Low Brokerage | Average Customer Service |
| Customer Education Initiatives | Mobile App can be improved |
| High-Performance Terminal Software | |
Zerodha Support Portal
Zerodha Customer Care number 08049132020
E-mail: support@zerodha.com
FAQs
Which Demat Account is best?
Zerodha is one of the best low brokerage demat account in India .
Which is the cheapest brokerage in India?
Zerodha offers cheap brokerage options. Zerodha Brokerage charges for Equity Intraday trading is only Rs.20 or 0.01% per trade Whichever is lower .
What are the charges in Zerodha?
Zerodha Charges includes Zerodha Account Opening Charge of Rs 200 for Equity and low Brokerage Charges .
Does Zerodha charge for account opening?
Yes, Zerodha Charges Rs 200 for Equity trading .
Is Zerodha trustworthy?
Yes, Zerodha is easy to use and very trustworthy . It is also the largest broker of India with over 20 lac plus clients
Is Zerodha really free?
Zerodha is completely free for equity investments . For Intraday and futures and options , it charges a low brokerage of 20 rs per trade . For Zerodha demat account opening , it charges only Rs 200 for Equity trading Demat Account
Is Zerodha good for beginners?
Absolutely , Zerodha is one of the best trading and investment platform for beginners