Is Upstox Safe is a question for which many are searching for answers before opening a demat account
Upstox is a trusted and reliable discount broker in India with a strong reputation of its investors, decade long experience in broking, and a technology-first approach
Upstox, which is a brand of a well-known company, RKSV Securities are backed by Tata Group with personal investments from Ratan Tata.

In this blog post, let's find out more if Upstox is Safe for long-term investment in India or Not.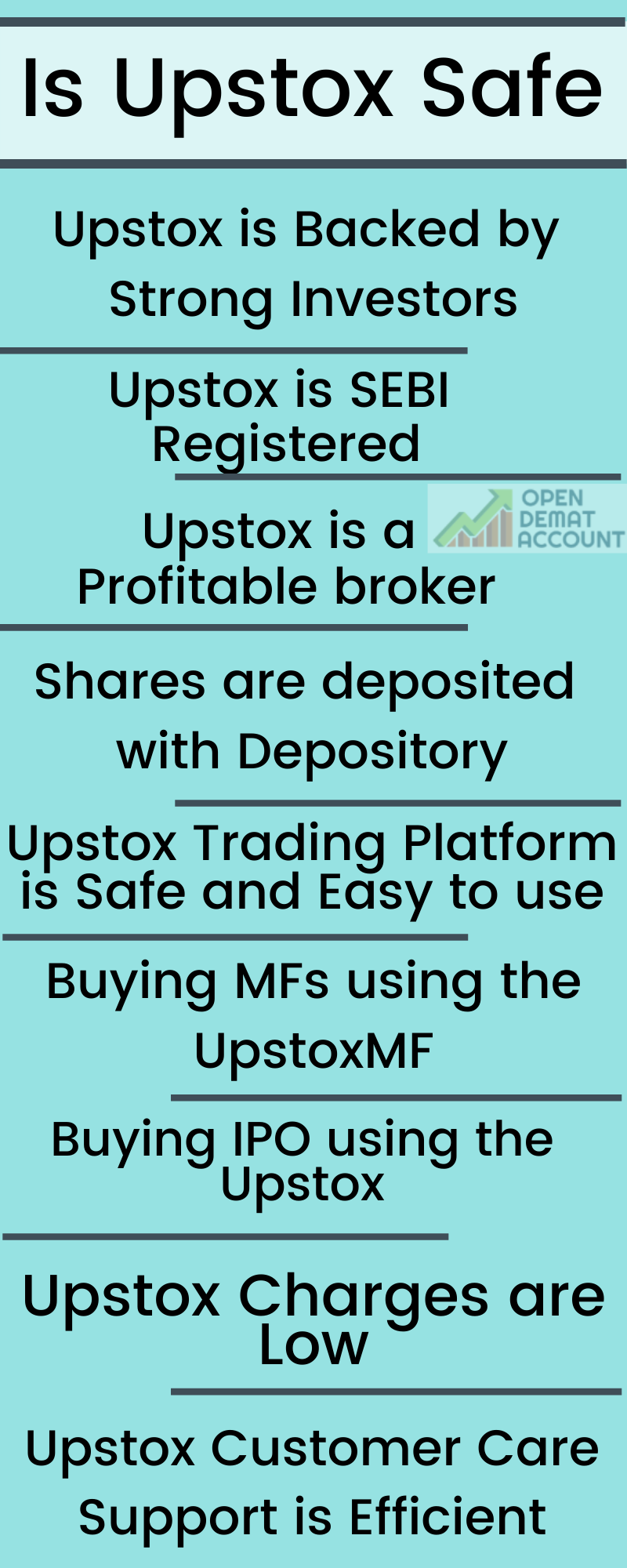 1.Upstox is Backed by Strong Investors
Upstox started its operations in the year 2012. In a short time, the company entered the list of top discount brokers in India with lakhs of active customers. The Upstox is a member of BSE, NSE, and MCX exchanges. It is also registered with SEBI, NSDL, and CDSL.
Upstox is an online brand of RKSV Securities India Pvt Ltd. It is backed by reputed investors like Ratan Tata, Tiger Global, and GVK Davis.
2. Upstox is SEBI Registered
Upstox is registered with SEBI and follows various regulatory organizations. Its registration details are SEBI (INZ000185137), CDSL (IN-DP-118-2015), MCX: 46510.
SEBI asks exchanges to email you the details of trades you have executed, at the end of the stock market timings.
If you Open Upstox Demat Account, you will receive such notifications from Upstox that will contain details of the trade you have executed or Shares you have purchased.
3. Upstox is a Profitable broker
Upstox is one of the top discount brokers which is also a profitable company. In the financial year of 2017-18, Upstox clocked Profit Before Taxes in the range of ₹180 Crore.
Upstox is a profitable firm and has been in service for around 8-10 years with a huge growing client base.
As per long-term investments are concerned.

4. Shares are deposited with Depository
When you buy shares from Upstox Account, they are deposited in a SEBI controlled depository. The shares or Mutual Funds you buy are never with Upstox. This gives security to consumers who invest in the share market.
Upstox is a DP (Depository Participant) with NSDL and CDSL, the two Central Depositories that opens and manages Demat accounts in India. This membership allows Upstox to play the role of intermediary between the customers and the CDSL
5. Upstox Trading Platform is Safe and Easy to use
Upstox offers the following trading platforms to buy and sell shares and execute trades.
Upstox Pro Web – You can use the Upstox Pro Web to execute the trade using browsers on laptops or Desktops,
Upstox Pro App – Upstox Pro App is a user-friendly trading application available for download on both Android and iOS stores,
UpstoxMF – Upstox mutual funds platform provides free service for clients to invest in mutual fund schemes through SIP or LUMPSUM.
To help users determine correct Upstox charges, Upstox offers multiple tools like Upstox Brokerage Calculator and Upstox Margin Calculator.
Upstox Trading platforms are safe and secure as you can log in only with Two-factor authentication.
To access Upstox Login, one has to enter Client id and a password provided by Upstox and a pin to access your Upstox Demat Account
6. Buying MFs using the UpstoxMF
Upstox Demat account acts as a single Demat account that helps investors buy or sell shares, mutual funds, bonds, and other securities using the single Demat account
With Upstox Demat account, you do not need to have any other Demat account as it suffices all the major needs of investors
Upstox Demat Account provides you with a mutual fund investment platform which is UpstoxMF. You can log in to the UpstoxMF investment platform using your client id and password provided by Upstox.
Upstox does not hold your Mutual Funds investments as these investments are deposited with depositories.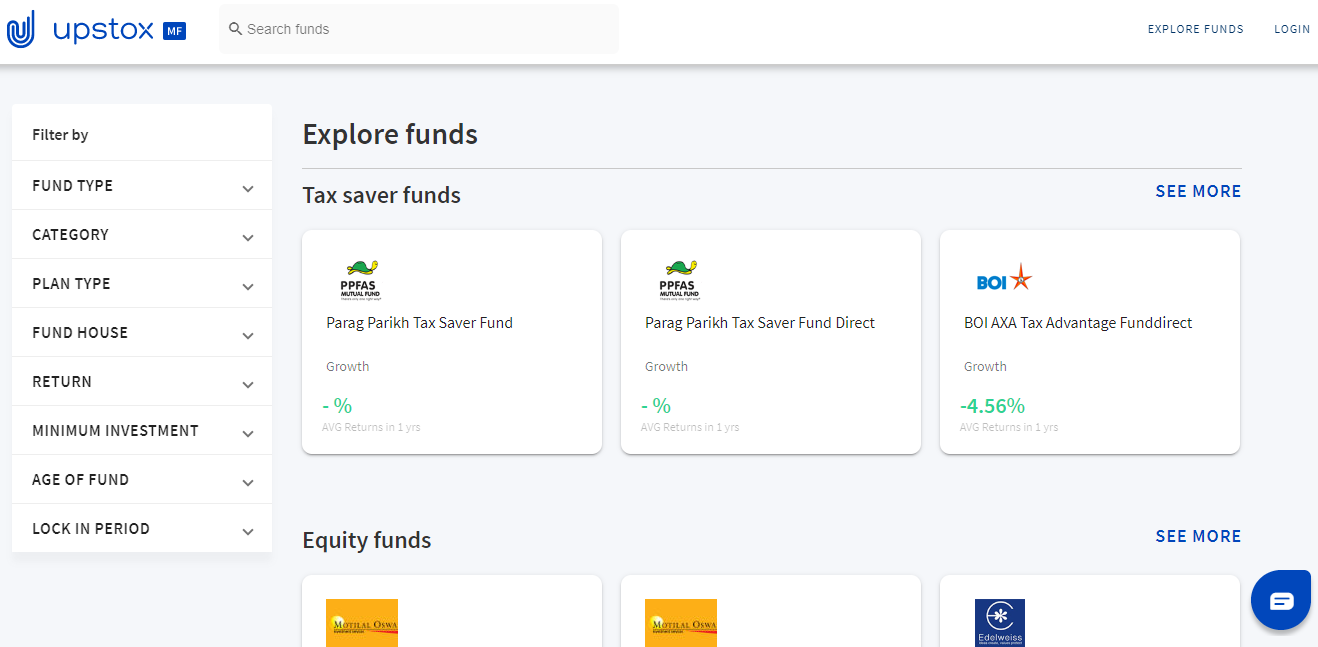 7. Buying IPO using the Upstox
Upstox provides you with the possibility to invest in an IPO using the Upstox Trading Platform. Investing in an IPO is done via UPI and your bank account.
To buy an IPO using a Upstox Demat account, login to your Upstox pro app or Upstox Pro Web application and buy the IPO. You can visit https://invest.upstox.com/ipo/ to invest in an IPO.
All these features make it absolutely secure to invest in an IPO using Upstox.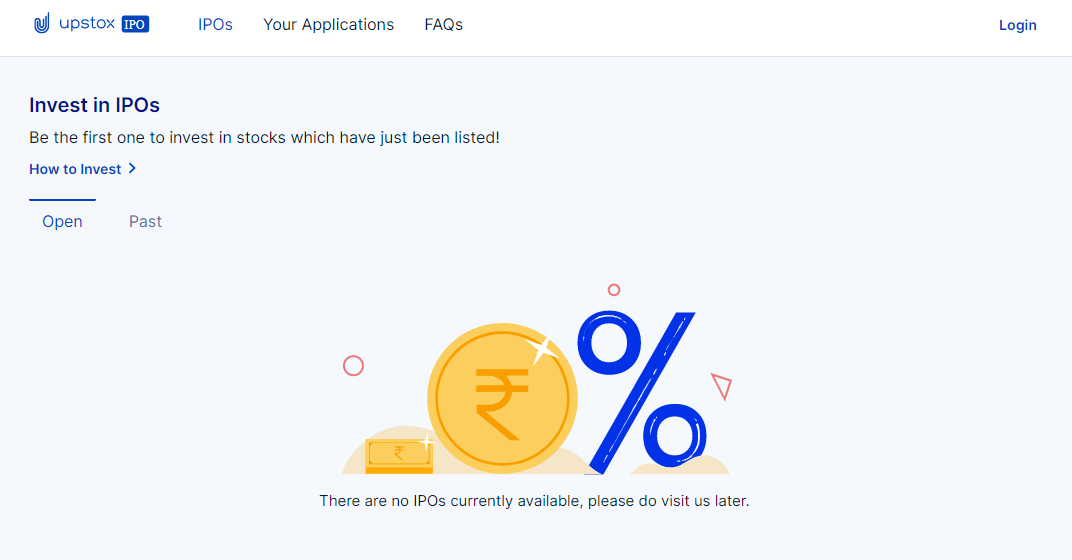 8. Upstox Charges are Low
Upstox Charges are ZERO for the online account opening process. Upstox Brokerage charges are Zero for equity delivery. Buying IPO and Mutual Funds using Upstox Demat Account is also FREE
Upstox provides a hassle-free and easy Demat account opening process. However, you need to select a brokerage plan which costs from Rs 249 to Rs 999 and you can get a cashback using Upstox Coupon Code from us
Also Check our Beginners Guide to Open Upstox Demat Account
9. Upstox Customer Care Support is Efficient
The number of complaints filed against a broker represents how good or how bad the trading activities can be through its platform. Upstox received the number of filed complaints from 2019 till March 2020 is 120.
About 90% of these complaints have already been resolved/addressed.
Upstox offers online support to help with Demat account related queries.
Alternatively, you can call us and get the best offers on Upstox Demat Account
Conclusion
Yes, Upstox is safe to open Demat Account and start your financial investment journey.
Upstox is reliable and trusted amongst the discount brokers in India and has all the right credentials to enhance one of the top online stock brokers in India.
The company has built a strong customer base and won many awards in a short period which speaks for its quality services.
FAQs
Is Upstox safe for Longterm Investment?
Yes, Upstox is a reliable and trusted stockbroker as it is backed by leading investors like Ratan Tata, Tiger Global, and GVK Davis. Upstox has all the appropriate credentials to be one of the Best Discount Brokers in India.
Is Upstox SEBI registered?
Yes, Upstox is SEBI registered as a stock broker and is a member of NSE, BSE, and MCX exchanges.
Is Upstox reliable?
Yes, Upstox is amongst the reliable discount brokers in India and it is a brand of RKSV Securities India Pvt Ltd, a Mumbai-based company that has been in this stock business since 2012.
Is Upstox free now?
Yes, the Upstox Demat Account Opening is free with a ₹249 prepaid brokerage plan. The company currently does not charge any account opening fee for individual trading accounts.
What are Depositories?
Depositories are organizations that hold your securities like Shares, Bonds, Mutual Fund Units, etc in electronic form which is known as the dematerialization of shares or the Demat Account. 
Depositories are responsible for keeping the securities safe and keep a record of all your trades.