Zerodha is the biggest Stockbroker in India with over 2+ million clients. Zerodha provides low brokerage charges and it gives one of the best features in Demat Account in India.
If you are looking to Open Demat Account with a reliable broker that has low brokerage charges with a user-friendly platform, click on this direct link for Zerodha Account Opening Page and open your Zerodha Demat account in less than 10 minutes.
For those who are new to the Indian stock market, we would suggest you open a Zerodha Demat and trading account to save more on the brokerage charges.

Order types in Zerodha Kite App
Kite by Zerodha provides you with three main product types by which you can invest or trade in the stock market. The product types are
1. CNC full form is Cash N Carry or Delivery Trading
2. MIS full form is Margin Intraday Square-off or Intraday Trading
3. GTT full form is Good Till Triggered

What is CNC in Zerodha Kite App?

CNC (Cash and Carry) is an order type used for delivery-based orders. You can trade in delivery when you want to buy or sell a stock and hold it for more than 2 days.
CNC in Zerodha offers brokerage free delivery trading which means there are no brokerage charges for delivery based trades.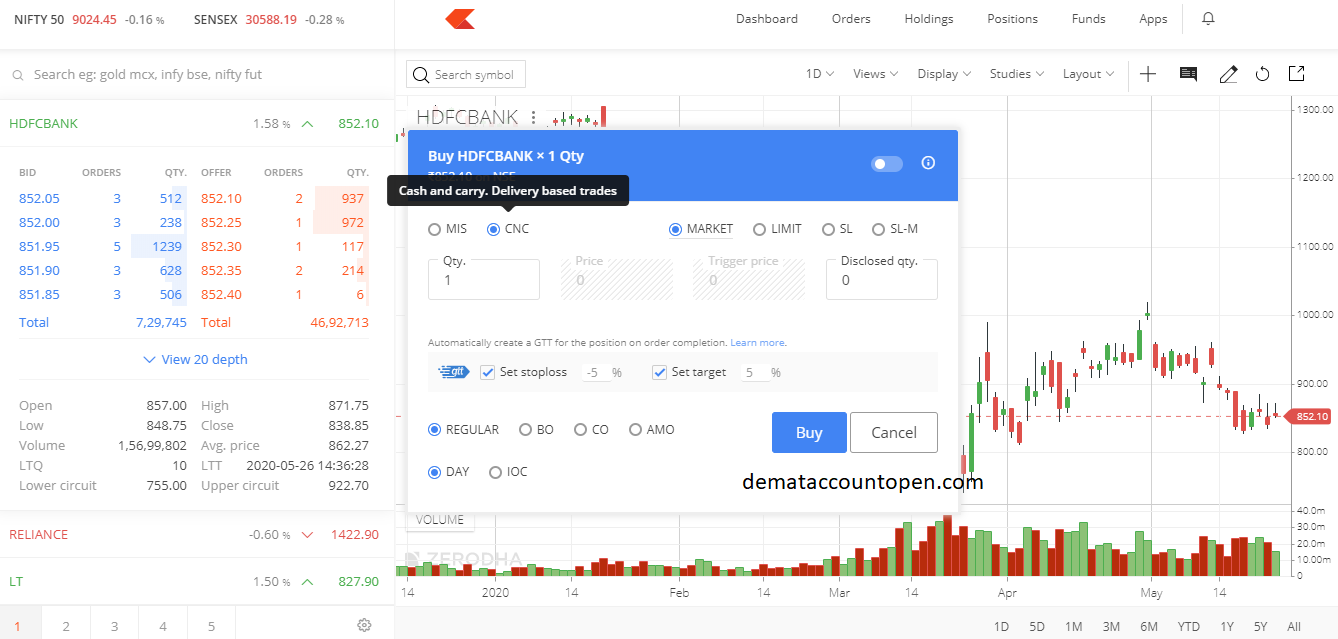 What is GTT in Zerodha Kite App?
Good Till Triggered (GTT) order provides you to place an order which is sent to the exchange only when the trigger price is matched.
GTT Zerodha was introduced on 26th July 2019 for equity delivery traders (CNC orders) to offer an alike service like Good Till Cancelled (GTC) order given by most full-service brokers in India.
GTT orders are provided for free of charge for the first 3 months to the traders who opened Zerodha Demat Account. Zerodha is planning to announce the pricing of GTT orders soon.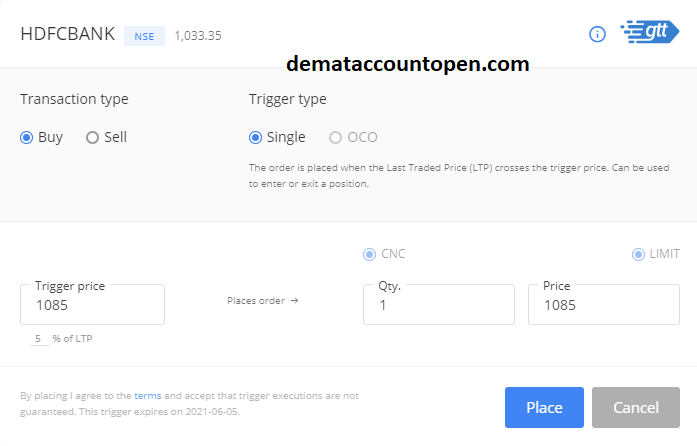 What is MIS in Zerodha Kite App?
The full form of MIS is Margin Intraday Square off. It is an order type which is used for Intra-day orders in equity and F&O. The MIS orders are squared-off within one single trade day.
In Intraday trading, you need to buy and sell the stocks on the same day. Zerodha charges a flat brokerage charge of Rs 20 per executed order for intra-day.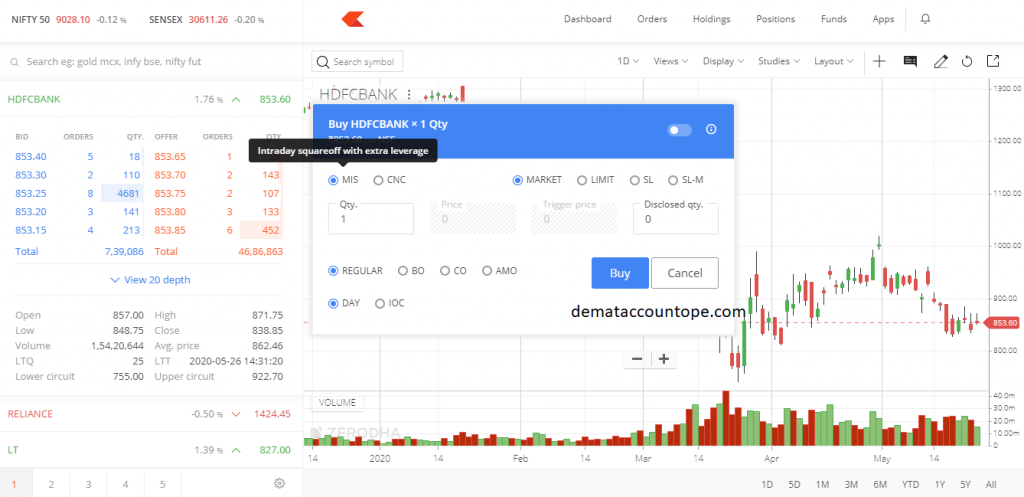 Different Order Type in Zerodha Kite App
Zerodha kite has several order types other than product types like MIS, GTT and CNC which are Market Order, Limit Order, and stop-loss order. Let us evaluate them one by one.
Market Order
Zerodha's Market Order is an order to buy or sell a stock at market prices. The advantage of the Market Order is that the order will be executed all the current market rate.
The price is not specified at the time of placing the order so the trader might end up paying more or selling at a slightly lower price.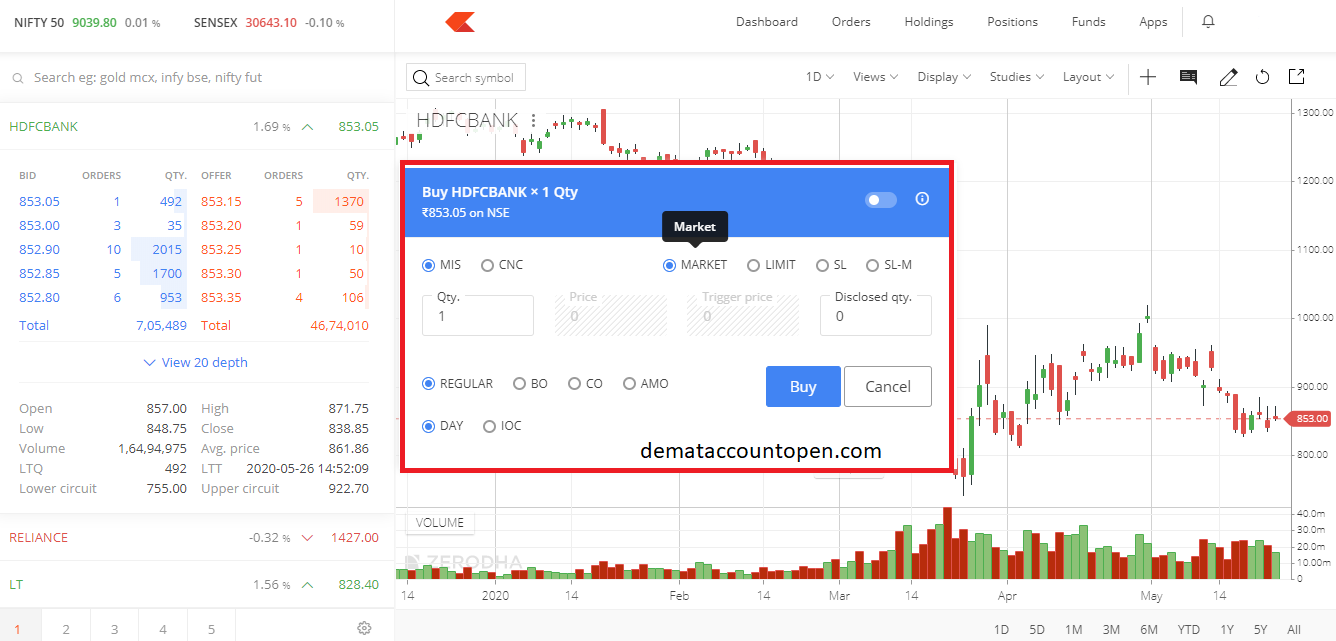 Limit Order
Zerodha's limit order is an order to buy or sell a stock at a specific price. When you are buying a stock, you disclose your broker not to go higher than the specified price. When you are selling a stock you instruct your broker not to sell below your specified price.

When placing Buy Limit orders, the limit price entered must be below the Current Market price and when placing Sell limit orders, the limit price entered must be above the current market price.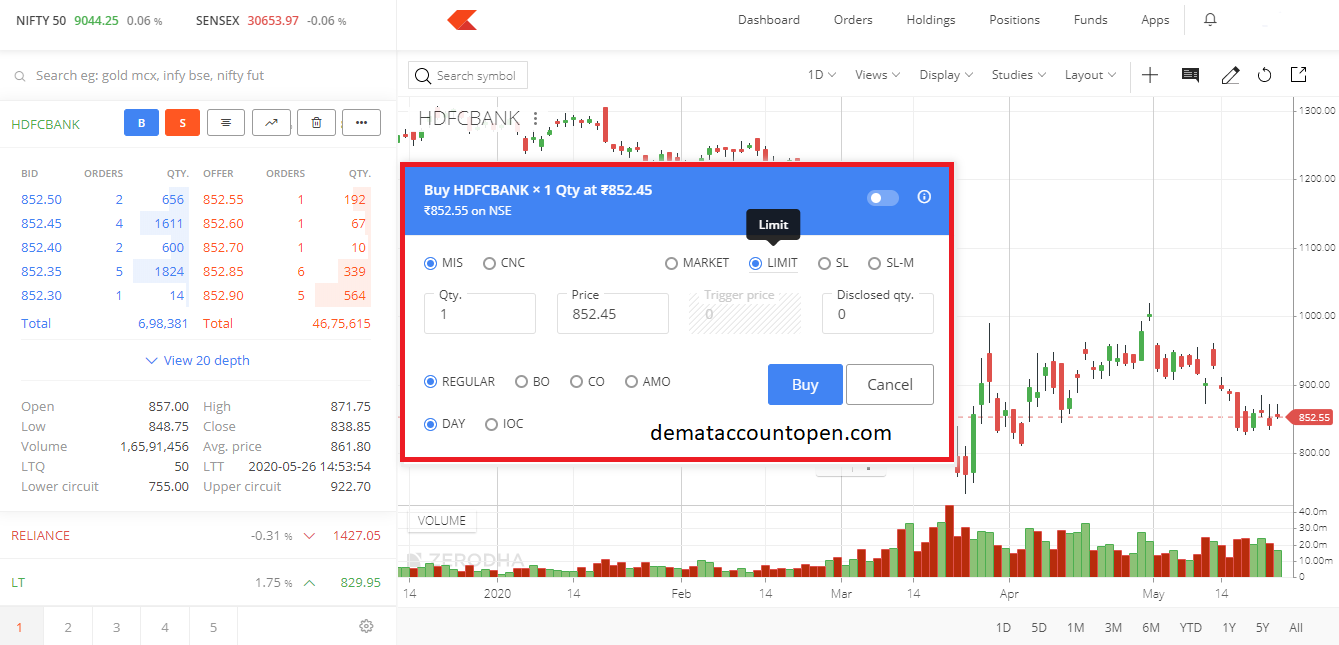 Stop-Loss Order
A stop-loss order with Zerodha is a buy/sell order placed to limit the losses. As most of the traders fear that the prices may move against their trade.
If you have a buy position, then you will place a sell SL and if you have a sell position, then you will place a buy SL
Types of Stop-Loss orders
There are two types of Stop-loss orders which are
Stop-Loss Limit Oder or SL Order
In Zerodha kite Stop-loss limit order, you have to enter price along with Trigger Price. When the trigger price is hit, the stop-loss order is given as a limit order with the limit price specified in the SL order.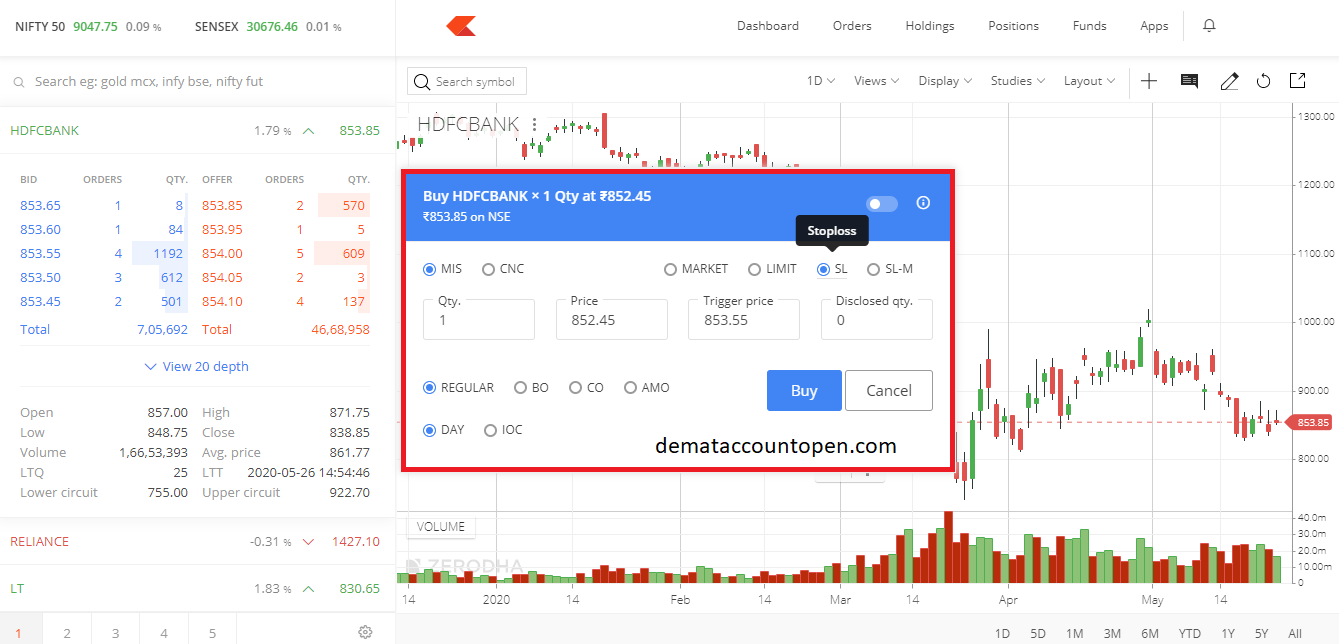 SL-M Order or Stop-Loss Market
In Zerodha kite stop-loss Market order, you only need to enter the trigger price. The order is given as a Market order when the trigger price is hit.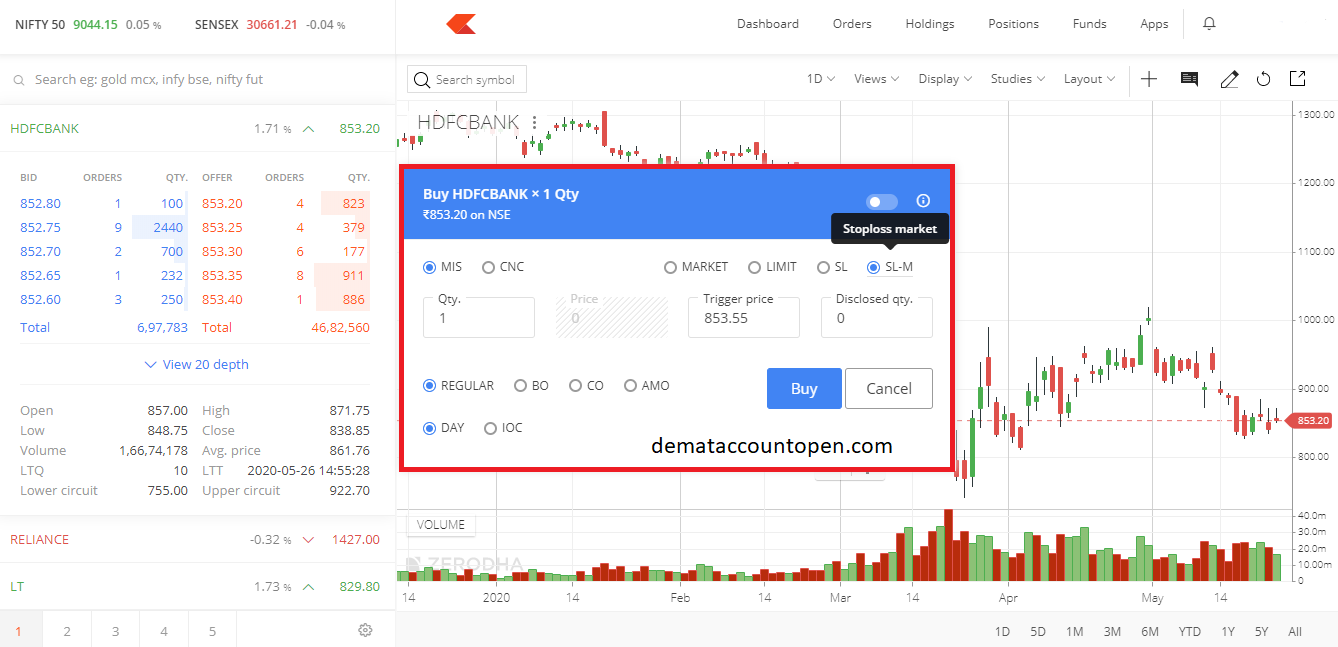 FAQs
Open Demat Account
Broker




Rating




Link to Open



 

Zerodha


No.1 Stock Broker in India







★★★★★









Upstox




★★★★









Angel Broking




★★★★









5 Paisa




★★★★









StoxKart




★★★★