Intraday trading, as the name suggests refers to the trading system where you have to square-off your trade on the same day. Squaring off the trade means that you have to do the buy and sell or sell and buy transaction on the same day before the market close.

Intraday Trading is also referred to as Day trading by many traders. In Intraday trading , stock actually does'nt come to your demat account. Therefore , you need on trading account for intraday trading .

If you have bought 100 stocks of ABC limited during the open market hours,then you have to sell the same no. of stocks of ABC limited before market closure.Same is the case if you have sold the stocks,you have to buy the same quantity of the stock you have sold earlier.

How to start Intraday Trading in India
To start Intraday Trading in India , you need below things
Trading and Demat Account
Intraday Trading Strategy
Trade With the Trend
Risk Management and Money Management
Intraday Screener tools to pick stocks for Intraday
Open Demat Account and trading account with Stockbroker
In intraday trading , we may need to execute multiple trades at different points of time. Hence brokerage charges should be low for intraday trading . Also , we will need good charting tools and techniques . So the technology platform should be good . Margin and leverage are other tow things that needs to be kept in Mind before trading. A broker should provide good margins.
We recommend Zerodha as Broker if you want to start intraday trading in India. You can open zerodha demat account by clicking here Brokerage charges for the stocks traded under the day trading segment are very less than Delivery segment.
You can also visit Best stock brokers in India to compare brokers and chose platform as per your need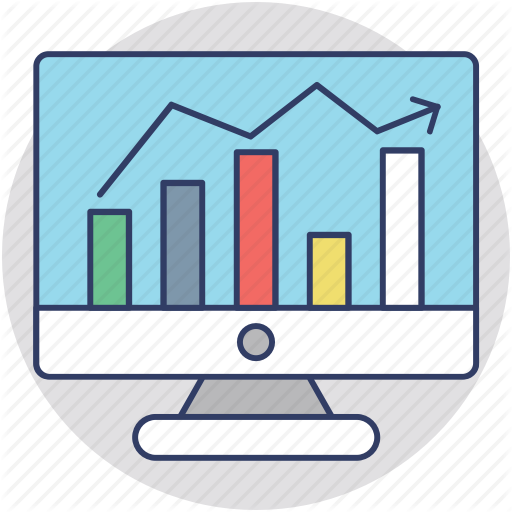 Intraday Trading Strategy
Another most important things that you need to have to start intraday trading is some good trading strategy that makes you money. One of the best beginners stock market intraday trading strategy that helps you to pick intraday stocks will be Open High Low strategy.
Open high low is an Intraday trading strategy where you wait for 15 minutes after market open , then buy stocks where open=low price and sell stocks where open=high price
Stocks where Open = high means there is selling pressure in the stocks from beginning and stock may go down. Similarly when Open= low price of day after 15-20 minutes , it means traders will buy stocks for day and stock will go up . This is opportunity to buy the stocks.
You can read about Open High low strategy and Find realtime Open High Low scanner stocks here. You can also learn other Intraday Trading techniques like Opening Range Breakout here
Always trade in direction of Trend
The next most important thing to learn to start intraday trading in India is to identify stock trends . Some traders rely on the trend for Intraday trading and usually are much more patient and make fewer transactions. Trend trading is a term used to describe a style of trading in which we trade in general direction of the stock price movement and dont trade agains the sentiments.
Usually stock is in three trends or direction. Uptrend , downtrend and sideways Trend.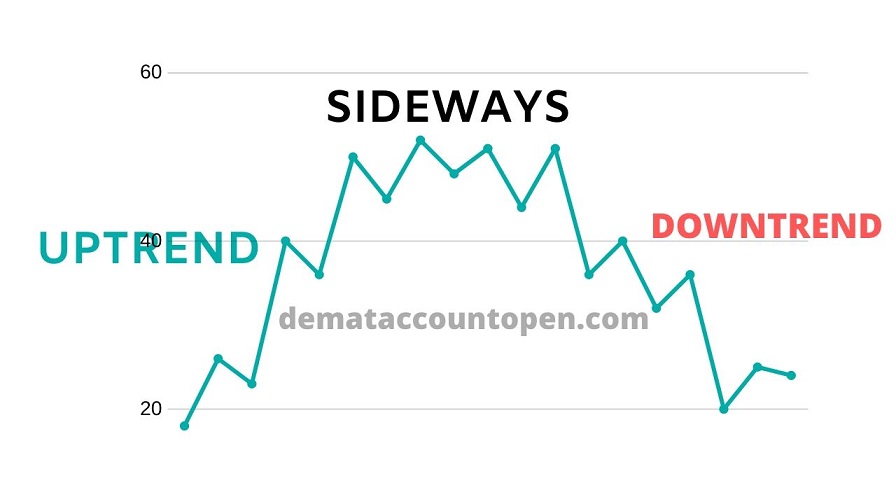 Uptrend means when stock direction is generally up and stock is going upside generally.You can identify Uptrend in an stock by using Indicators like Moving Average . Usually when stock trades over 20 day exponential moving average , its considered to be in uptrend in short term. Read in full detail What is moving Average indicator and how to predict stock trend here.Uptrend is characterized buy higher highs and higher lows
Similarly Downtrend means stock is generally trading in downward direction and stock can fall from here as well. Stocks usually trade below their important moving avarages in Downtrend. Downtrend is characterized by Lower highs and Lower Lows
Always Put Stop Loss – Risk Management
Its a well know fact that if we put all our money in one stocks and risk it in one trade , we can go bankrupt in a day. That is the reason why Stop loss is very Important in Intraday Trading. Stop loss means a point where you will exit your trade if it goes against your direction.If you dont out stop loss, you may lose big money in Intraday Trading as usually we use leverage in Intraday Trading.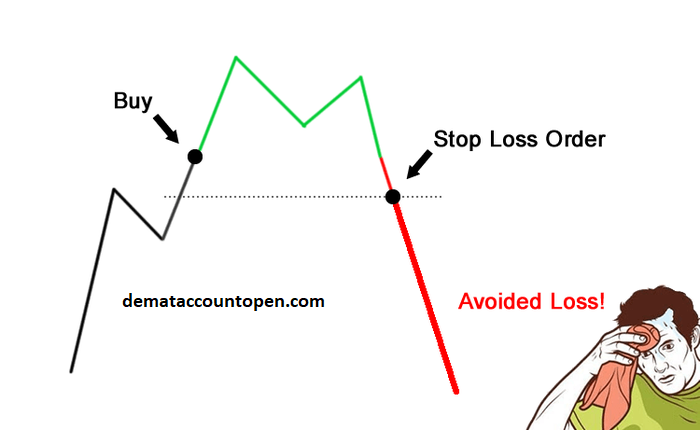 Next common question is – Where should be the stop loss? . Well stop loss depends on trading strategy as well as stock. In strategy live Open high low, days high or days low will be stop loss. If you have bought very high volatile stock(means stock goes up and down very fast) , then your stop loss should be high . If a stock is less volatile , then stop loss can be low. Few people maintain stop loss at 1-2% lower or higher that buy or sell price . You can select stop Loss using an Stock market technical indicator like Average True Range(ATR) . Usuallt stop loss is placed few points above or below ATR value.
Some traders focus on very short term and exit the position once they reach minimum level of profit.Such traders usually rely on Volume of transactions to make a substantial profit.They carry out multiple buy and sell trades and sometimes exit the position within minutes. Their stop losses are very low .
Use Screener to select stocks for Intraday
Scanning through so many charts in Intraday Trading can be tough task. Hence you can you readymade stock screeners to select stocks for Intraday Trading Based on different strategy
You can visit IntradayScreener.com which is one the the best free realtime stock screener available in stock markets. There are Multiple scans available for intraday like
Open High Low scanner
Price action SCanner
15 minutes breakout stocks
MACD crossover stocks for intraday
Supertrend buy or sell signal stocks
Next day stocks for intraday trading based on todays Data
High Volume stocks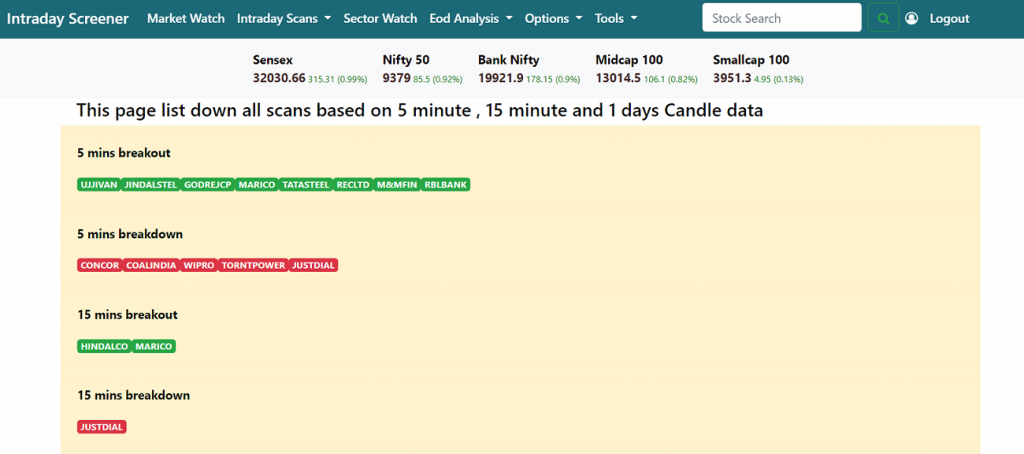 Best discount Brokers for Intraday Trading
Broker




Rating




Link to Open



 

Zerodha


No.1 Stock Broker in India







★★★★★









Upstox




★★★★









Angel Broking




★★★★









5 Paisa




★★★★









StoxKart




★★★★