To invest in Stock market directly , there are couple of ways. One is via Mutual Funds, wherein you give your money to a good qualified manager , and he uses it to buy sell shares and give you profits. Second way is to directly purchase these stocks yourself. In this article, we will see how can we directly buy and sell shares on Zerodha platform
Before directly purchasing stock , we must know that directly investing in stocks can be risky unless you know how to select stocks for long term investment. Also we should know how to make a portfolio of stocks and how much money to invest in each stocks. Also you need a demat account and trading account to buy or sell shares. Click If you want to open free demat account with zero brokerage and get started.

Once you have decided which stocks to buy , you need to login to Zerodha Kite ,
search the stock name in search bar and click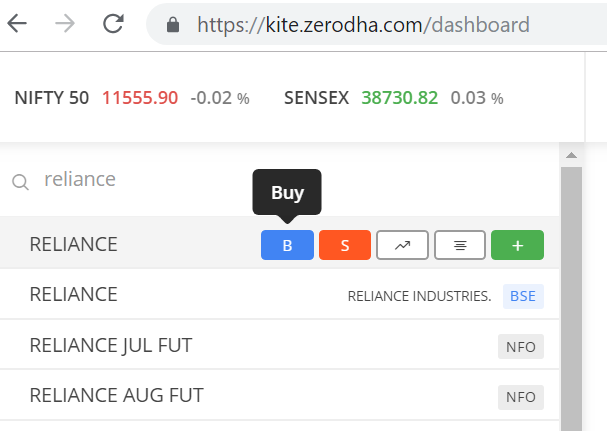 on 'B' button to open the order window. Example if you want to buy Reliance stock , search for reliance and click on B to open buy window.There you can enter quantity of stocks you want to buy and select market or limit order and "CNC" (delivery ) . When you select limit order , you need to enter a price at which you want to buy stock. If stock doesn't come to your price, buy order will not be executed.If you select market as order type , your buy order will get executed at the price any seller is willing to sell.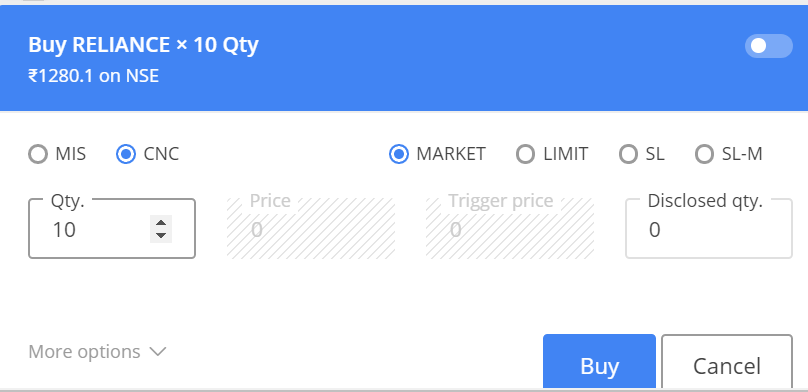 It is usually good to place market order for stocks which have many buyers and sellers, ie liquidity